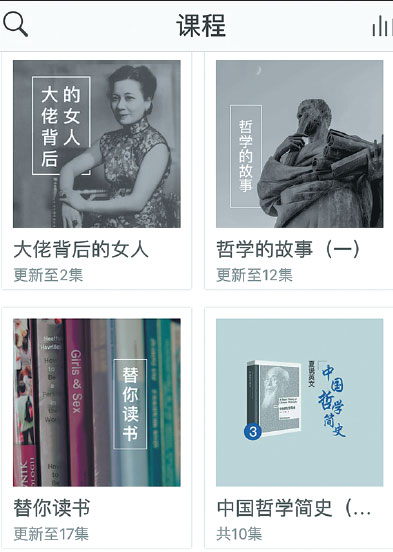 A screenshot of Youlinyouke, an app that aids users to learn English in an all-around way. Photos Provided To China Daily
A popular new language-instruction app uses a different approach than exam-oriented education. Zhang Zefeng reports.
A growing number of Chinese users speak highly of the app Youlinyouke - and do so in increasingly proficient English - as the app has taken the language-learning market by storm.
It's the brainchild of English-learning whiz kid Xia Peng, who rose through the ranks of language-instruction giant New Oriental Education & Technology Group, starting as a teacher and eventually becoming a director of the company.
Xia spent five years starting from fifth grade commuting for hours on weekends and holidays to take English classes. His speech got him the first prize in 2005 in the International Public Speaking Competition hosted by the English Speaking Union in the United Kingdom. He is one of only two Chinese champions in the contest's history.
Today, the 33-year-old runs Zhuomo Cultural Media Co, the startup he co-founded in Beijing's Zhongguancun area, which is often referred to as China's Silicon Valley.
The company's Youlinyouke app is intended to guide users to learn English as a language rather than for such utilitarian purposes as passing tests.
"You establish a new business when you believe the industry needs to be redefined," he says.
"We don't train students to pass exams or offer typical K-12 education. What we're doing is something few people are doing in the market."
The app is designed as a classroom where lifelong learners come to understand the "fundamentals and musts", as Xia puts it, through quality readings that include The Economist daily news, A Short Story of Chinese Philosophy, New York Times best-sellers and William Shakespeare.
The concept is a blend of Xia's experiences in learning English and scholarly research, including US linguist Stephen Krashen's theory of comprehensible input, which emphasizes subconscious acquisition over linguistic output.
Online education has been booming in China in recent years. The sector's revenue increased over 27 percent between 2015 and 2016 to reach 156 billion yuan ($22 billion). The market is expected to hit 270 billion yuan in 2019, Beijing-based iResearch Consulting Group says.
Youlinyouke started as a platform on instant-messaging app WeChat in 2015. Teachers can interact with students in group chats. Its app currently has more than 30,000 subscribers and a 67 percent retention rate.
More than 14,000 people have paid the 1,198 yuan annual fee for the app since it was launched in January, Zhuomo Cultural Media Co's CEO Li Shi says.
Li believes the company is heading in the right direction as established players jump into the niche sector.
The growth shows English-learning needs have surpassed basic communication or exam-related English, Li says.
"People now seek to improve through classics and knowledge-based learning."
Low thresholds serve as an obstacle to online education's development. Any teacher can start an online class using social media. And students tend to be less motivated compared with studying in brick-and-mortar classrooms.
Li says their company uses quality to stand out. It recruits experienced professionals, who are not only skilled at teaching but also able to create quality content.