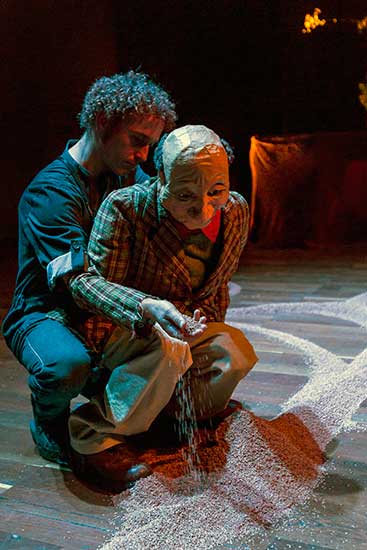 Spanish painter Borja Gonzalez will work with his band to perform Dreams of Sand, a show that combines sand art, live music, big-sized puppets and "speed painting" in Beijing.[Photo provided to China Daily]
In his 80-minute show, Gonzalez, with only a little bit of sand and his hands, tells the story of two people, from their childhood to adulthood.
Since 2014 when the show was created, Dreams of Sand has been performed at festivals and venues in Spain, France, Greece and the United States.
"I am inspired by people, beautiful stories, a starry night and love. All these things that seem so simple but are difficult to attain, are my inspiration," says Gonzalez. "The show is a spectacle that lets you travel through a sea of feelings. The message is clear. No matter your race, your culture, we are all born naked and have similar dreams."
The music in the show is as important as the sand drawings.
In 2012, Gonzalez founded Ytuquepintas in Barcelona along with pianist Roc Sala and producer Joaquim Arago. Later, cellist Quico Puges, percussionist Alex Guitart and light and sound technician David Cozar joined the band.
The musicians work as a live band in Gonzalez's performance, which complements each drawing, reinforces it and gives meaning to each scene.
"The music gives the public an extra character and the information they need to keep dreaming," says Gonzalez.