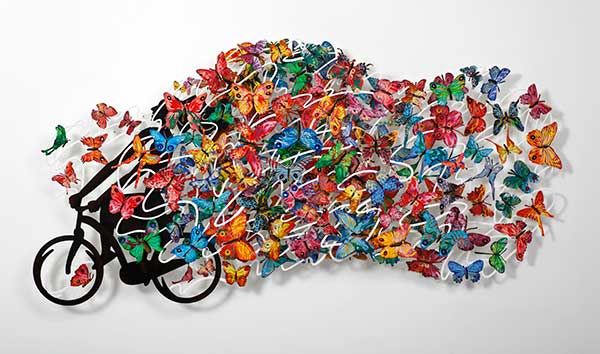 The Butterfly series is one of the highlights of David Gerstein's show in Beijing.[Photo provided to China Daily]
Israeli artist David Gerstein says he works to bring art closer to daily life and to delight people.
The 73-year-old Jerusalem native's cutout sculptures don't express serious social critiques.
Rather, he focuses on the "touching details in one's life and memories that have been overlooked", such as flowers, ponds and butterflies.
"I want to create art that will accompany people all their life - from the moment they wake up to bedtime, whenever they see my works, they will cheer up," Gerstein says.
His debut exhibition in China, Layers, shows his paintings and sculptures at Beijing's Today Art Museum. It lays out the dynamics of his half-century career.
"It (the current show) is the most important exhibition of mine in a decade," he says.
"But it is not a retrospective. It isn't the time yet."
Gerstein has brought his figurative paintings from the 1970s and '80s.
Many of these works feature an unvarying, dull palette. Not only do they examine the solitude of urban dwellers but also they reveal Gerstein's struggle to form his own style.