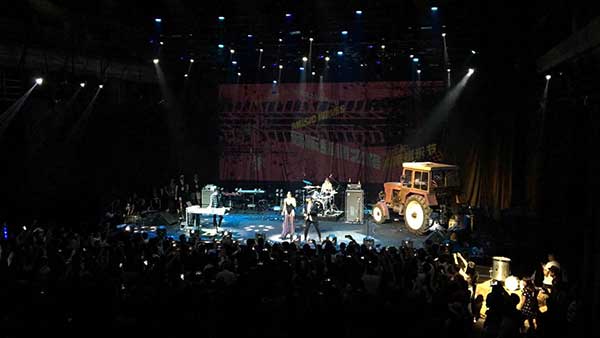 Belanova performing as part of the Meet in Beijing Arts Festival.[Photo/CGTN]
Belanova, one of the most popular bands in Mexican history, have brought their Latin Grammy-winning sound to China for the first time.
After a musical career of almost 17 years and five studio albums, they performed in Beijing on Sunday and Monday. Band members Edgar Huerta, Ricardo Arreola and Denisse Guerrero are now readying for a concert in Shanghai on Wednesday.
In Beijing, the dynamic trio performed their signature wildly addictive sweet-as-candy pop beats as well as some nostalgic classics.
Keyboard player Huerta told CGTN, "We want to show the musical journey of Belanova, to give an overview of our sound, from the first to the last albums. And we've also prepared a surprise, a very Mexican song that everybody here could know."
Belanova was formed by three friends who decided to get together in Guadalajara in 2000 to create music.
The group was catapulted to stardom when their catchy dance track "Por Ti" rocketed to the top of MTV Mexico's Top 20 and stayed there for a record-setting 29 straight weeks.