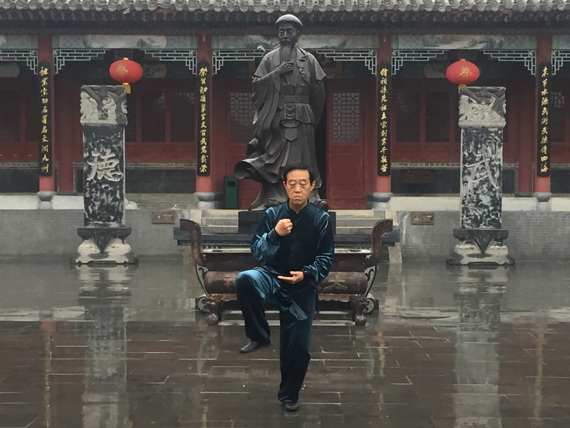 Tai chi master Chen Zhenglei, 68, practicing the martial art. [Photo/CGTN]
Tai chi is one of the most popular forms of exercise in China, especially for the elderly. The martial art, which combines slow and fluid movements, deep breathing and meditation, has been practiced in China for centuries. Every movement of Tai chi embodies a fundamental concept in traditional Chinese philosophy - harmony.
Chen Zhenglei, a 68-year-old Tai chi master, says that Tai chi represents Chinese culture and philosophy. The martial art is a practice that supports a balance in the human body, that is Yin and Yang. In Chinese philosophy, Yin and Yang are two elements that make up the universe and everything in it and that also oppose each other. Yin and Yang always need to be kept in total balance.
For the past decade, Yan Shuangjun, vice chairman of Wenxian Committee of the Chinese People's Political Consultative Conference, has been working to have Tai chi included in the UNESCO List of Intangible Cultural Heritage. He fears that if China does not secure a UNESCO listing, other countries might move ahead with their own variants.
Yan says that everyone in China hopes Tai chi will be recognized by the world, because it will help strengthen the Tai chi inheritors' confidence and pride so that they can dedicate themselves to cultural protection.
Chen Zhenglei is concerned. He worries that if another country puts Tai chi on the list first, no one will believe Tai chi was invented in China. And then how will Tai chi masters face their ancestors, who created the martial art thousands of years ago?
In 2008, Tai chi was among China's 35 nominations to the list, but it was withdrawn after an evaluation said the application was "too vague". The next year, the rules were changed and each nation was limited to two nominations per year. Now the rules are even stricter. Each country can only make one nomination every two years.
Chen Zhenglei said: "I've been to more than 50 countries and established over 100 Tai chi schools. Now I have 800 disciples and hundreds of thousands of students. I've dedicated my whole life to Tai chi. This is my responsibility."
Today, Tai chi is a daily routine for millions of people. And the ancient martial art is becoming popular among young people who want to relieve the stresses of modern life. They can be seen gathered in public spaces worldwide, moving gracefully in unison.
With 5,000 years of history, China has undoubtedly amassed numerous cultural relics and traditions. This includes 37 which are recognized by UNESCO World Heritage. One practice still awaiting recognition is Tai chi. Both Yan Shuangjun and Chen Zhenglei say that they'll continue to lead the campaign to get the ancient practice on the list.