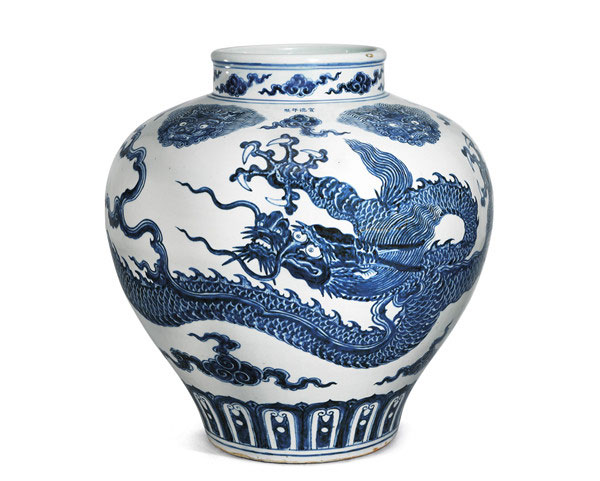 A 15th-century blue-and-white jar fetched HK$158 million ($20 million) at a Hong Kong auction last year. [Photo provided to China Daily]
Auctioneers must improve integrity to move up to the next level. Lin Qi reports.
Last year, China took the largest share of the market in global sales of art and antiques at open auctions. However, if one adds up transactions at auctions and through dealers and galleries, China ranked third by value, after the United States and the United Kingdom, according to a recent report.
The first Art Basel and UBS Global Art Market Report said Chinese auction sales accounted for 34 percent of the world total by value, exceeding the US, which recorded 32 percent, and Britain, which had 18 percent.
However, China falls behind those countries when the bigger art industry picture is taken into consideration, because deals are also made by dealers and galleries at sales exhibitions and art fairs, as well as via expanding online sales.
The report said the US maintains the premier position. It accounts for 40 percent of global share by value, followed by the UK with 21 percent and China with 20 percent.
It also said the global art market generated $56.6 billion in total sales, and the top three markets-the US, UK and China-cemented a combined dominant position that has endured for a decade.
The report was published by Art Basel, an international art fair, and UBS during the fifth Art Basel Hong Kong event, held from March 23 to 25. It navigates the current trends in the global art and antiques trade, and analyzes the performances of auction houses, dealers and online sales.
The report was written by Clare McAndrew, founder of Arts Economics, a researcher and consultancy in Dublin. McAndrew based her analysis on market statistics provided by several institutions, including Collectrium, an international art collection management platform that provided the bulk of data, and the Art Market Monitor of Artron, of Artron Art Group, which provided Chinese auction data.
McAndrew said China's leading auction sales is the result of a decline in US auction sales and a "relatively stable performance at the high end" (objects sold for more than $1 million) in domestic salerooms.