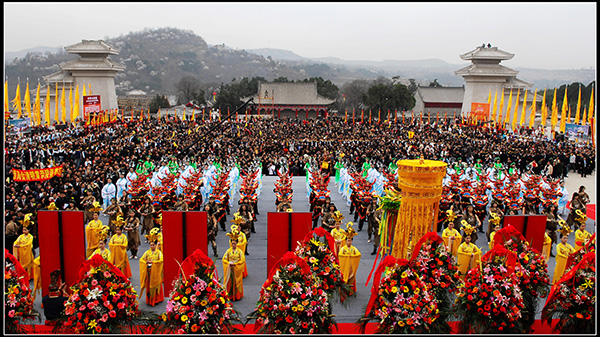 Performers and the public listen to a speech during the Yellow Emperor Memorial Ceremony held last year in Huangling county, Northwest China's Shaanxi province. [Photo by Lu Shengfei/China Daily]
An estimated 50 million overseas Chinese are scattered across the world today, but whatever cultures they embrace or languages they speak, blood ties from shared ancient ancestors are an eternal link of kinship.
Few understand this better than the residents of Shaanxi province's Huangling county, home to the Mausoleum of the Yellow Emperor.
According to legend, the ancient tomb that sits on Qiaoshan Mountain holds only the clothes of the revered emperor, a tribal chief who defeated his enemies to unify China about 5,000 years ago.
Since the Han Dynasty (206 BC-AD 220), rulers have held regular memorial activities at the mausoleum to offer tributes and pay respect to one of the forefathers of Chinese civilization. They prayed to the Yellow Emperor for a long life and long reign, good harvests, and for fortune in battle.
Yet in the years that followed the collapse of the Qing Dynasty (1644-1911), the ancestral celebrations in Huangling began to take on new significance-to unite the Chinese people for the fight against Japanese invaders and the reconstruction of the nation.
The Yellow Emperor Memorial Ceremony is held annually during Qingming Festival, or Tomb Sweeping Day, which this year falls on Tuesday. Since the late 1970s, when the nation launched its reform and opening-up policy, this event has evolved into an important activity for the far-reaching Chinese diaspora.