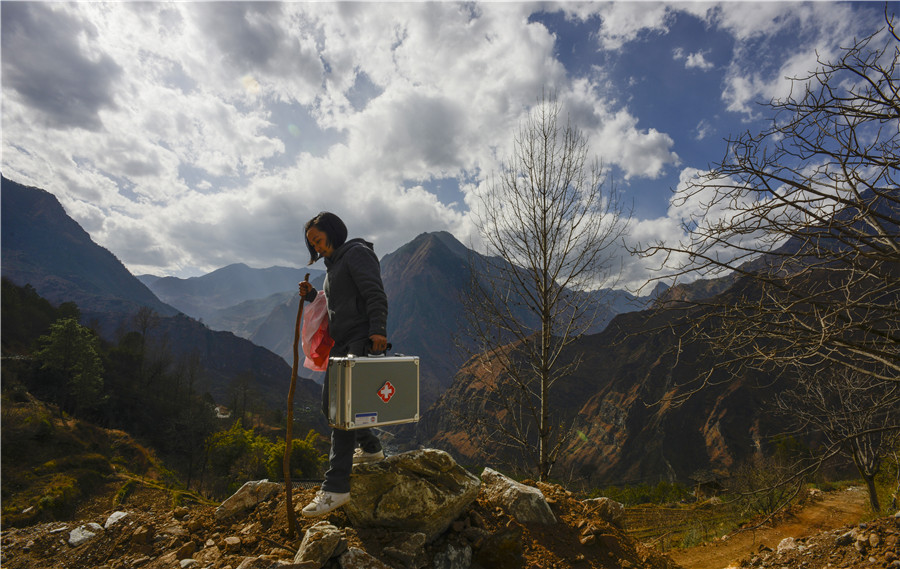 Every time Ma Li visits a patient, she has to carry along a heavy outpatient box. [Photo by Pan Songgang]
A peek into the life of a rural doctor tending to her village.
In Mianning county, Liangshan Yi autonomous prefecture, Sichuan province, the village doctor Ma Li is alone at the health center. On the door is her phone number. As long as the villagers need her, she says she is always on call.
"In China, the number of rural doctors like me is about 1.3 million," she says. When she first arrived, Ma was shocked to learn that women often died during childbirth.
Ma sees at least 10 patients every day, but sometimes even 30 or 40. In recent years, she has trekked up countless steep mountain roads. Sometimes it takes a few hours to reach a patient's home, she says. Sixteen years have passed, and Ma has stuck to her task.
Now, a new health station is being constructed in the village. Just three months ago, a bridge across the river was officially opened. Asked if she is afraid at night, Ma says she is used to life in the mountains. She laments that she is no longer young, but her youth has been integrated into every inch of the mountains. She is a beautiful flower deeply rooted in the wilderness.