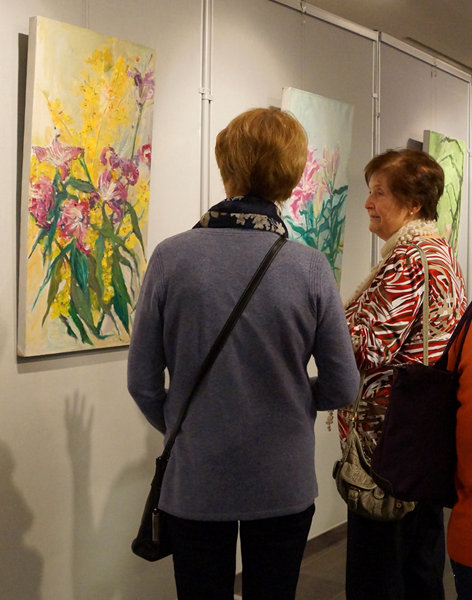 Visitors look at paintings at the China Cultural Center in Berlin. [Photo/Chinaculture.org]
Opening on International Women's Day, a collection of contemporary paintings created by Chinese female artists is on display at the China Cultural Center in Berlin.
The exhibition is also part of the cultural activities to celebrate the 45th anniversary of China-Germany diplomatic ties.
More than 60 pieces by 10 Chinese women are in the two-week show, depicting natural landscapes and life in modern China.
"Works on show today are created by Chinese women of different ages and careers, but what they have in common is their delicate feelings about nature and life, manifested in the exquisite artworks," Sun Qinhang, deputy director of the China Cultural Center, said at the exhibition opening on March 7.
Speaking at the opening, Iris Jana Magdowski, vice mayor for Education, Culture and Sports of Potsdam said, "Germany admires the great achievements of China in economy and technology over the past 30 years, but we all know that the unique culture of China has been a crucial part of the country. The high-quality paintings showcased today are all from female artists, which proves that women are playing an essential role in Chinese art."
The opening was accompanied by demonstrations of Chinese calligraphy and shows of traditional Chinese music.
The exhibition runs until March 24.
This year marks the 45th anniversary of the establishment of China-German diplomatic relations in 1972. More than 80 cultural activities are planned for the year including music, drama, dance, creative design, literature and film, in both China and Germany.