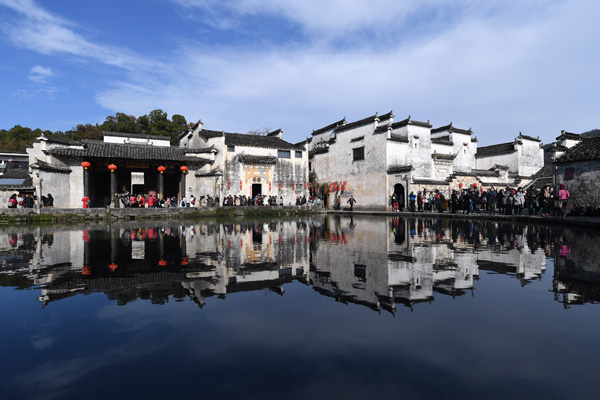 Hongcun village in East China's Anhui province [Photo/Xinhua]
"I am proud my home village has preserved its traditional style," said Tashi Yangjen, the only deputy to the 12th National People's Congress (NPC) from the Luoba ethnic group.
With 3,600 people, Luoba is one of the smallest ethnic minorities in China.
Tashi Yangjen, 36, grew up in a mountainous Luoba village in Shannan prefecture in southwest China's Tibet Autonomous Region, though the prefecture was officially reclassified as a city in 2016.
As an NPC deputy, the first suggestion Tashi Yangjen submitted to the NPC session in 2013 was on retaining the traditional design of Luoba homes, which are usually thatched with straw.
She was worried that the outlook of the village would change as the government revamped and rebuilt village homes, mostly built with stone, wood and straw.
Her proposal was a success. In May 2014, the government approved a plan to preserve the Luoba village.
Now there are 23 new homes built with reinforced concrete in the village that look almost the same as traditional Luoba homes. Their roofs are not covered by straw, but metal that resembles straw.
Tashi Yangjen's suggestions as an NPC deputy were not just about housing. She also proposed that Luoba culture be protected, including language and clothing, as well as improved infrastructure.
Things are getting better for Luoba people. There is a sewage treatment service in her home village, in addition to a garbage disposal facility.
A small factory for making Luoba costume is being built. Upon completion, about five Luoba people will work there making souvenirs and Luoba dresses, which usually feature red, black or white stripes. Together with traditional dress, Luoba women often wear accessories, including long necklaces and headwear made of blue beads.
The Luoba ethnic group has no written language.
"The spoken language of the Luoba is also protected, as traditional words are collected and Luoba children are able to learn them from preschool education," Tashi Yangjen told Xinhua during the ongoing annual session of the 12th NPC.
Tashi Yangjen's suggestions also include improving the subsidies offered to residents living in border regions. This year she plans to submit a proposal to build more public facilities, including small parks where people can get together for events.
"The people's congresses are good because deputies' motions and suggestions are responded to," she said, adding the system is sound because it entitles ethnic minorities, however small, to have at least one NPC deputy.