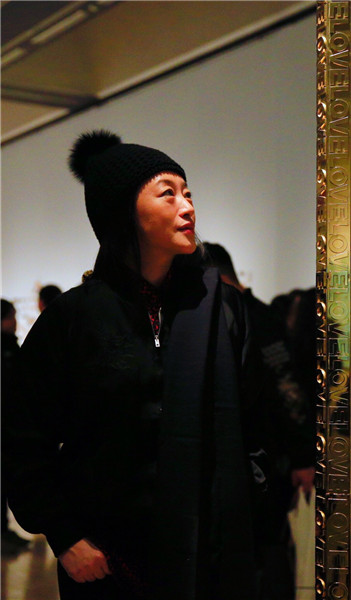 Beijing-based musician and artist Ai Jing in front of her installation I Love Heavy Metal. JIANG DONG/CHINA DAILY
In her two installations called I Love Heavy Metal, Beijing-based musician and artist Ai Jing interprets an Eastern philosophy that hardness can be complemented with softness in a harmonious way.
Two stainless steel poles that bear many carved­out inscriptions of the word "love" in an exhibition hall at the National Art Museum of China. They are part of an ongoing exhibition titled New Tale of the Orient that reflects how contemporary Asian artists inherit and develop tradition through various mediums of art.
"The word 'love' conveys a message of warmth while the stainless steel looks cold and tough," says Ai. "They feel so different but are able to achieve harmony and coexistence in the works."
The subject of love recurs in Ai's art. A piece in her solo exhibition at the National Museum of China, in 2012, showed a 16-meter-high hanging carpet that had the word "love" woven in many vibrant colors.
I Love Heavy Metal is featured in one section of the exhibition called "urbanism and new mediums", Curator Liu Chunfeng says this is where artists use installations, videos and mixed media to demonstrate the relationship between tradition and urbanity.
The exhibition showcases work by 16 Chinese artists and one from Japan.
Liu says that viewers will not find tags for the artists such as up-and-coming or established, rather, they will see different types of works revealing different ways of thinking when it comes to translating classical Eastern culture into a modern context.
"Handmade items and a craftsman's spirit are central to this show," says Liu.
Behind Ai's works is an eye-catching installation by Taipei-based artist Rosalie Huang. Huang was inspired by her work experience in film and TV production to create the piece. It features a luxuriant Han Dynasty (206 BC-220)-style woman's gown and a glittering warrior's suit, both of which stand before a wall of mirrors. The costumes boast sophisticated embroidery.
"These days we've again recognized the value of craftsmanship, because we realize it is art of its time, and it is about how people learn to focus on one tiny work," says Huang.
"When people walk between the two costumes, they see numerous reflections in the mirrors. It feels like time travel that takes them to a past when these traditions built a civilization. And it encourages people to think about what future we want to create."
Beijing-based Yang Kai explores the distinction between reality and dreams in his installation. He paints trees using ink on a reprocessed piece of aged silk, and he employs a similarly elegant touch of Song Dynasty (960-1279) painting. Above the painting he places an acrylic board on which he draws the same subject.