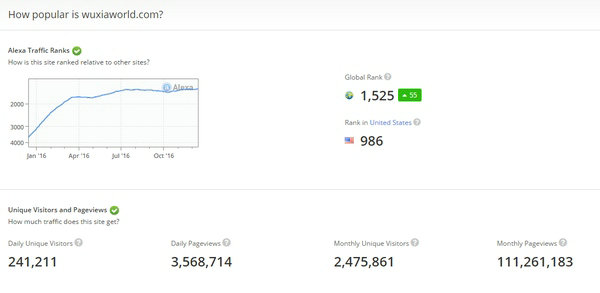 Data from Alexa about popularity of Wuxiaworld.com. [Photo/screen shot of alexa.com]
In 2014, one of his friends from Vietnam introduced him to Chinese fantasy and martial arts web fiction.
"It was difficult to buy Chinese contemporary novels in America. And traditional Chinese culture is too complex for American people to understand. However online fantasy web novels about Chinese kung fu are easier to understand," RWX said.
The first Chinese online fantasy novel he read was Stellar Transformations, and he translated the another of the author's work, Coiling Dragon.
"Our website is more like a translation platform. Now we have had 20 to 30 projects and each project is charged by a team of seven to eight translators. Some teams only have one translator, such as the one for the novel, I Shall Seal the Heavens," RWX said.
RWX said that Western readers are more interested in Chinese online novels about history, fantasy, kung fu and time-travel rather than romances.
At first, their team would get authorization from online writers before translating a work, and later found literature websites owned the authorization rather the creators.
Wuxiaworld.com recently launched a cooperative agreement with Qidian.com, the first Chinese internet literature website.
Now there are about 20 active Chinese-to-English translation groups consisting of ethnic Chinese and Chinese learners from around the world.