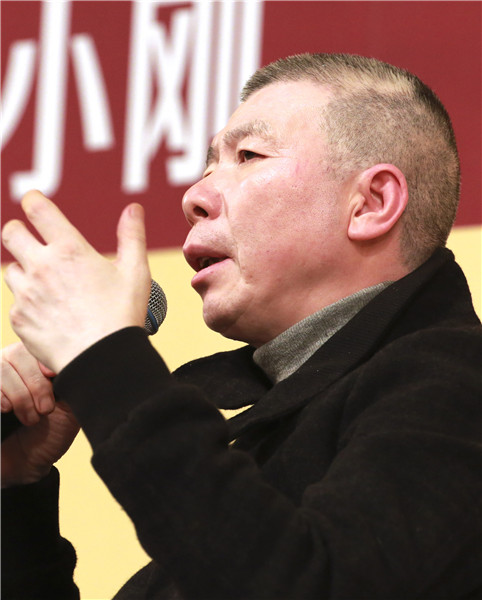 Film director Feng Xiaogang. [Photo provided to China Daily]
A corporate feud between two of China's biggest names in the film industry has bubbled to the surface as director Feng Xiaogang posted an open letter to Wang Jianlin, chairman of Wanda Group, on Friday.
In the letter, the top-selling filmmaker accused Wanda, which owns the country's largest cinema chain, of allocating only 10 percent of its screens for his new release I Am Not Madame Bovary, while other chains gave it 40 percent.
The reason, he said, was executive Ye Ning's job-hopping early this year from Wanda to Huayi, the film company that has produced most of Feng's films. Wanda, with 13 percent of the country's screens, earlier targeted two other Huayi releases for similar treatment, he said in a later interview.
"The third slap has fallen on my face, and I'm not afraid. Such practices can damage the industry when a corporate feud ends up penalizing the filmmakers."
In response to Feng's accusation, Wang Sicong, son of Wang Jianlin and a stockholder in Wanda Cinema Line, mentioned in his blog that there was a noncompete clause in Ye's contract and, in addition, Wanda has a right to allocate limited screen slots as it chooses based on its expectations of market performance.
Feng, in turn, accused Wang and Wanda of acting irresponsibly for their equity holders because the film exhibition arm of Wanda is a public company.
"With 40 percent of screens nationwide, our film achieved 62 percent of total box-office receipts on its opening day. At Wanda, we got 13 percent of screens, but accounted for 30 percent of its receipts," Feng said on Saturday.
What could have been merely a corporate spat spilled from the financial section over to the mainstream, mainly because of the two larger-than-life personalities involved. Feng is known as a loose cannon who targets anything he sees as unfair. (He also said Huayi had apologized to Wanda for the Ye incident, but the latter wasn't forgiving.) Wang Sicong is big news online, not only because of his father, one of the wealthiest people in China, but because of his brazenness. The single tweet he sent had "the power of a public relations army", according to a netizen.
Most netizens sided with Wang because they agreed with him in thinking Feng's letter was "too acidic and pretentious". For his letter, Feng took on the persona of Pan Jinlian, the Madame Bovary equivalent in the title. The problem is, the female lead spent the whole movie arguing she is not that type of woman. This made the tie-in with the movie plot a moot point, critics said.
"You say I'm in a position of strength and meddling with a film exhibitor's work. But I'm the victim here, and Huayi is indeed a small company compared with Wanda," Feng said.
I Am Not Madame Bovary registered 146 million yuan ($21.2 million) in its first two days of release, a significant sum for a drama film with a mostly circular format. The movie, a gentle satire of the country's bureaucracy, has been widely lauded as Feng's best in a decade.