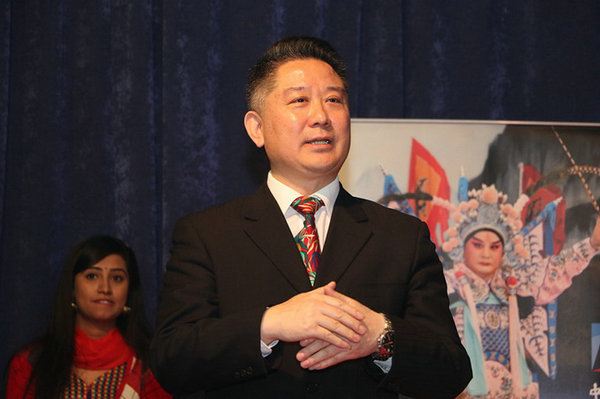 Jiang Qihu introduces the art of Peking Opera at the culture talk in India, Nov 21, 2016. [Photo/Chinaculture.org]
Performers from the National Peking Opera Company of China have taken the stage in India, Russia and Mongolia from Nov 21 to 30.
Jiang Qihu, one of the opera company's stars, performed excerpts from classics during a series of talks on "The Charm and Beauty of Traditional Chinese Culture: The Art of Peking Opera" in the three countries.
India
Charge d'affaires of the Chinese Embassy to India, Liu Jinsong, and Delhi Intentional Arts Festival director Prathibha Prahlad were among 300 Chinese and Indian officials and ambassadors who attended the talk.
Lui spoke of the friendship beween Indian poet Rabindranath Tagore and Chinese Peking Opera Master Mei Lanfang.
"The talk fulfilled Mei Langfang's dream of visiting India. We hope the cultural exchanges could boost the mutual relationship between the two nations," Liu said.
Prathibha Prahlad said the culture talk enhanced the mutual understanding of Chinese and Indian people and suggested having more exchanges and communication between the two countries' artists.
A Russian student, who studied in Delhi, agreed.
"I hope I could have the chance to watch more Peking Opera in Delhi and Moscow. I plan to study Chinese from now on to know more about Chinese culture," the student said.
Russia
As the student wished, the talk continued to Moscow in Russia. The Bureau for External Cultural Relations of the Ministry of Culture deputy director-general Chen Fafen, and minister counselor of the Chinese Embassy to Russia, Zhang Zhonghua, were among 500 Russian officials, scholars and artists who attended the talk. Some Russian audience members said they wanted to go to China and feel the charm of Peking Opera in Chinese theatres.
Mongolia
Another 500 officials and artists turned out to hear the talk in Mongolia, including Chen Fafen and Cultural Counselor of the Chinese Embassy to Mongolia, Li Wei.
Mongolian audiences praised the talk for its interesting combination of presentations and performances. They also hoped there would be more chances for them to watch Peking Opera in Mongolia.
About Chinese Culture Talk
The events belongs to Chinese Culture Talk that was launched in 2015 by the Ministry of Culture of China. Chinese Culture Talk is a series of high-level cultural and academic lectures. More than 40 lectures have been held in the US, France, Italy, Cambodia and Indonesia. The content varies from philosophy, religion, cultural heritage, literature and art, costume, cooking and Chinese medicine.