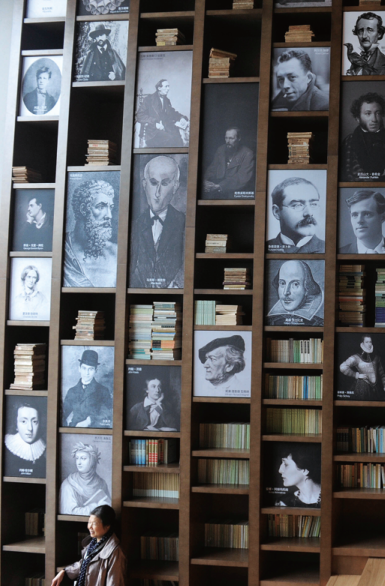 After careful selection, the museum has put on show 100 paintings and 50 copies of manuscripts of different time periods from Mu Xin's life. He left behind a total of 600 pieces of paintings and thousands of manuscripts. Photos Provided To China Daily
At the end of 2011, Mu Xin died. Five years later, the museum building was officially open to the public, telling stories about different aspects of his life.
Each month, about 10,000 visitors come to the museum to see and feel the cool space of the modern building, to watch short videos in which Mu Xin talks about his love for painting and music and reads his own writing.
On the second floor, there is a small library, where visitors can take a book by Mu Xin from the shelves and read for a while.
There are different kinds of visitors. Some are here to appreciate the modern architecture, some come because they are fans of Mu Xin, and others just come in by chance.
Tom Tang and four of his friends from Hong Kong University are strolling in the museum. They knew nothing about Mu Xin and his works before they came here, but "the space looks very nice".
"After seeing so many things about him, naturally I want to read his works to know about him," Tang, 19, says.
Cheng Zhi and Zhou Yuwen, from Shanghai, are sitting on a cushion laid on the big steps on the second floor. It is a space where light can shine directly through the louvers of the French sash windows facing the lake, just beside the dimly lit room where Mu Xin's bold manuscripts that he wrote in jail are on display.
"When you walk through the exhibition of the Manuscript in Jail, you see in the dark room the shockingly small characters densely written on paper, you can feel his eagerness to write out the sentences that were running in his hot blood, and the great pain, depression and maybe desperation he was suffering in jail," Zhou says.
"But at the end of the exhibition and the dark room, you see light and hope, so naturally you will turn into this quiet room. And when you get in, you see the water, light and the grand theater - you see the beauty of nature and human life."
It is the second time for them at the museum. In May, they took a quick look around the place, but as interior designers, it was the architecture itself that made them eager for a second visit.
"This is the best architecture in Xizha, judging from the structure and the interior design. We are very glad to have it here. It adds a different cool artistic quality to the generally commercialized area," Cheng says.