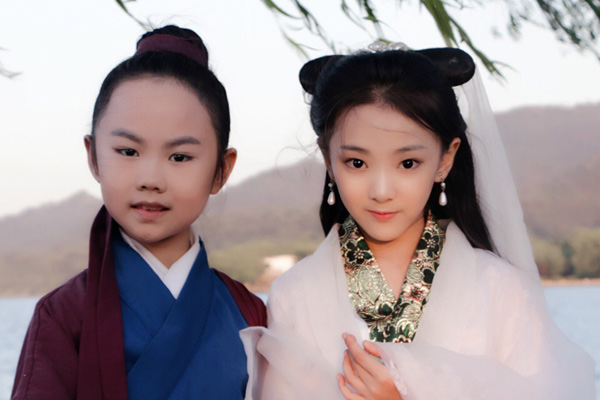 A still of the children's version of Lady White Snake. [Photo/weibo]
Creating A New TV Show Model
Since its release, the program has successfully reshot many patriotic TV series including Liu Sanjie, Jiao Yulu, Red Guards on Honghu Lake and The White-haired Girl before triggering widespread concerns and praises on the internet. The film Liu Sanjie has already received more than 100 million hits online so far.
Many people are curious about the classic TV series reshooting process, but there is more to Xiao Xigu than that. According to People's Daily, the program consists of four parts, including open audition, TV shooting, professional teaching and behind-the-scenes.
The selection process for performers follows the strict rule to provide the exact person for the exact role.
"When shooting Liu Sanjie, we organized for over 150 children with little performing experience to go back and forth between Jiangxi province and Guangxi Zhuang autonomous region for over a month," Pan Liping recalled.
"It takes time for these little kids to learn performing skills, to adapt to the environment and to acquire the characteristics of a role. Without the help of experienced actors, they cannot perform well," added Pan.
"The first lesson I learnt in my performing career was to perform like a child because they are the symbol of innocence and purity. So I repeatedly told them to be who they are and not pretend to be a mature performer," said Tao Lingyu, an actress famous for starring in the movie The Story of Liubao Village.
"To enhance the quality of the program, the TV producing team frequently communicates with young children on the background and the significance of the story in real life. With the principle of paying respect to the classic movies, the little artists have been required to be alike not only in appearance but also in spirit," Mo Zhiying, director of movie Jiao Yulu.
Meanwhile, in contrast with the large budgets in TV, low production cost is a worthwhile aspect to be mentioned. According to Pan Liping, it only costs thousands of yuan to film each episode. But a small budget doesn't mean poor quality. In terms of shooting scenes and props, careful research is done and the crew tries their best to restore the familiar scenes in the original version.
"I have seen the Lady White Snake four times and I am totally fond of watching it. To be honest, it brought back good memories of the 1990s. At that time, the whole family sat together to watch TV, which is rarely seen in today's world, " Weibo user Xiao Choujiaoya said.