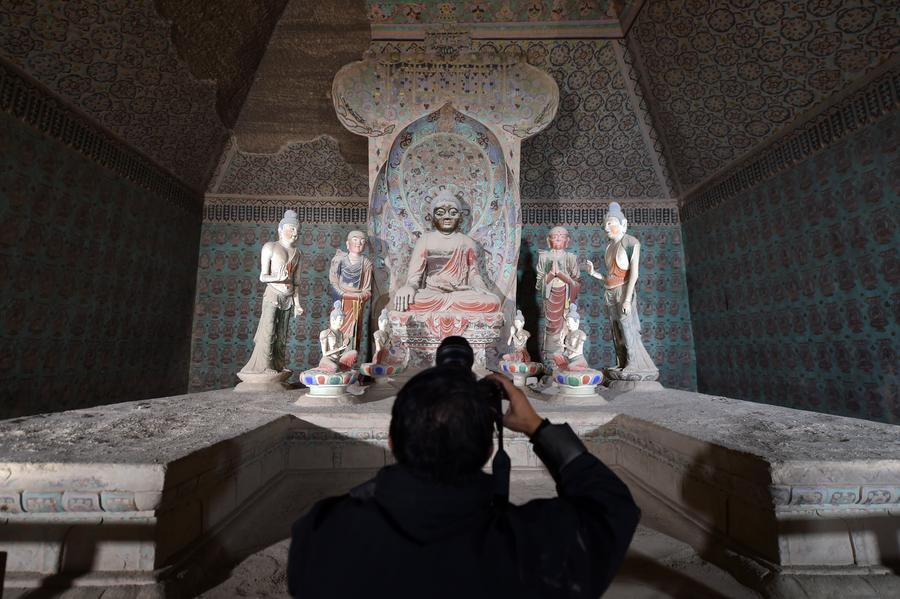 A photographer works in a cave in the Mogao Grottoes in Dunhuang, Northwest China's Gansu province, Oct 10, 2016. More than 100 photographers from domestic and abroad are invited to attend a photography activity kicked off on Monday, focusing on Mogao Grottoes, home to a huge collection of Buddhist artworks. [Photo/Xinhua]
Over 100 photographers from China and overseas gathered at the Mogao Caves in Northwest China's Gansu province on Monday, the first such event ever hosted at the site.
The Mogao Caves, also known as the Thousand-Buddha Caves, about 25 km southeast of Dunhuang city, are one of the largest and best-preserved sites of Buddhist art in the world.
According to Dunhuang Academy, the authority in charge of the research, protection and management of the site, no one has ever been allowed to take cameras into the caves by themselves, and until now all photos showing the inside of the caves were taken by the academy only.
The event, lasting from October 10 to 15, is sponsored by the Dunhuang Academy and the provincial literature and art circles federation, and aims to demonstrate the art and historical richness of the caves.