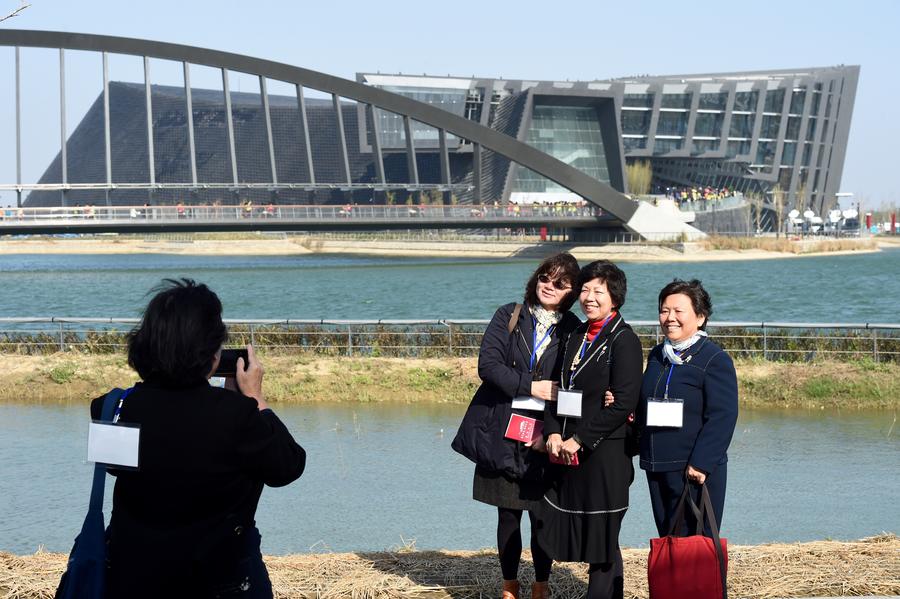 Visitors take photos at the Southern Branch of Palace Museum in Chiayi, Southeast China's Taiwan, Dec 28, 2015.[Photo/Xinhua]
Currently there are ten exhibitions in the new branch, including five regular, three special and two exhibitions of items borrowed from other museums.
At the exhibition on Asian Buddhist artworks, the museum presented the Tibetan Dragon Sutra, more than 50,000 pages of Tibetan Buddhist manuscripts, hand-written in gold ink and commissioned by Emperor Kangxi of the Qing Dynasty in 1669. The sutra is a Tibetan translation of all teachings and laws by the Buddha himself.
According to Fung, the manuscripts, kept in 108 wooden cases, have never been fully displayed since the museum in Taipei did not have enough space.
Visitors are also able to view valuable jadeware of Qing emperors and blue-and-white porcelain made in the Ming Dynasty (1368-1644), as well as porcelain from the Korean Peninsula and Japan. The new branch is also exhibiting Asian textile and tea culture.