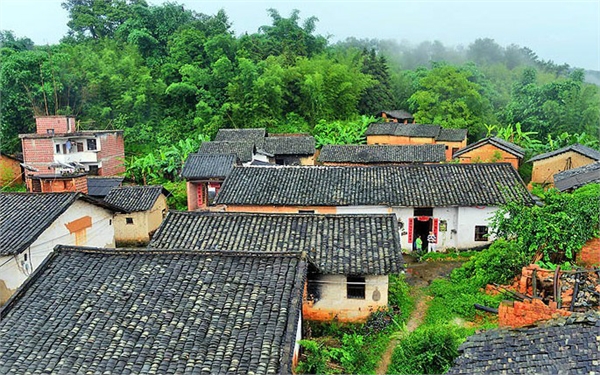 Niubi Village ensconces among mountains in the Mount Danxia hinterland. [File photo]
Scenery along the world's longest high-speed railway from Beijing, on the vast North China Plain, southward to Guangzhou, over the Yellow River and Yangtze River, changes in the space of a few hours, as does the sky from overcast to pure and fresh. Mount Danxia then comes into view through the shifting clouds, among the red sandstone landforms that are named after it.
Dotted with rustic Hakka villages, Mount Danxia, located northeast of Shaoguan in Guangdong Province, is an extraordinary geographical landscape.
Idyllic Niubi Village
In typical southern style, dwellings in Niubi Village, ensconced among mountains in the Mount Danxia hinterland, have tiled roofs and packed earth walls. Until completion of the concrete bridge at the top end of this remote village a few years ago, the rivers and streams bounding Niubi on three sides were its sole means of access.
The long, narrow bridge leads to the village entrance. The village pathway showcases on either side main features of the Lingnan landscape – bamboo groves, ponds, a grapefruit garden, banana trees, and rice paddies. Most prominent is Mount Guanyin, named after the Bodhisattva synonymous with compassion. Niubi Village stands opposite the mountain, whose shape resembles a woman with a baby in her arms. Local residents call the hill the "Child-Sending Bodhisattva".
Most residents have long since moved away to newly built villages, leaving a dozen or so tile-roofed houses among the peaceful bamboo groves. The most enchanting scenery can be seen amid dew at dawn, when the village is wreathed in mist and Mount Guanyin floats in and out of view. It is a sight to treasure. At daybreak, if not for chaffinches swooping and pecking at straw to build their nests, and the ripples in the creek from jumping fish, one might fancy oneself part of an ink and wash painting.
Among the many visitors drawn to this tranquil village are a few whose desire for peace and seclusion moves them to rent small dwellings. Ai Mi is a one such part-time resident who works in the city and comes at weekends to her "Niubi Small Cottage" where she cultivates flowers and vegetables in the yard. She has also set up a library for village children, and lets them to run it.
The friendly, hospitable villagers make Ai Mi feel at home. They often invite her to their homes to sample a glass of rice wine or share a bite to eat. Some among them have given her two fruit trees and a few patches of land. It took Ai Mi less than two weeks to become familiar with every household and feel part of the local community.
When Ai Mi arrives at the cottage, her neighbors gather on the moss-covered flagstone path in front of her abode to pass the time of day. Normally reclusive, Ai Mi relishes her new-found social life. After years of big city toil and struggle, she delights in her simple life in this peaceful haven.