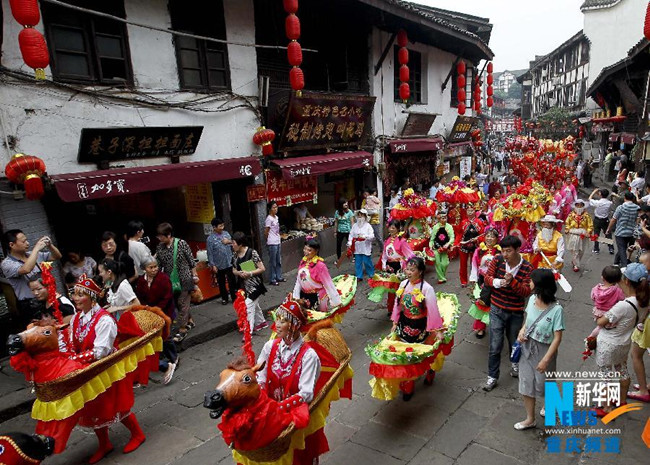 Old towns are blessed with unfading charm. [Photo/Xinhua]
A Stone Path Leads to a Time-honored Town
Old towns are blessed with unfading charm. Time has endowed them with their own appeal. But to really get a feeling of what an old town was like in its heyday, you must ignore the commercialism of the central districts and venture deep into the town's alleys.
Ciqikou is a small town composed of two parts: the busy district around Zhengjie Street and quiet side streets with boutiques and shops.
Standing at the junction of Huangjiaoping Alley and Zhengjie Street boutiques and shops, visitors need to make a choice. To the left is a quiet area with art galleries and teahouses where one could sit in a cozy corner, sipping a cup of tea while enjoying a moment of relaxation. To the right, a crowded stone path will lead you to the banks of the Jialing River. At the end of the path, you will see an ancient pailou, discolored over time but full of antique beauty, marking Longyinmen (Longyin Gate).
A few steps back from Longyin Gate is Hengjie Street, which intersects Zhengjie Street, the main street of the town. Apart from several fortune tellers' stalls, Hengjie Street is full of alluring boutiques.
Hengjie Street was the most impressive part of town for me. Ancient buildings, rows of lanterns, delicious home-cooked snacks, colorful postcards, remarkable pictures on blackboards, vendors carrying shoulder poles, and shoemakers patiently waiting for customers all create attractive scenes for amateur photographers and young arts and culture fans. Unusually for a tourist hotspot, the salespeople here are not pushy. Instead, they smile at visitors and continue with their work.
Time flies. An easy morning had passed as I wandered through this ancient town. I realized that the tranquility would soon be broken as wave upon wave of tourists flooded into the town. I left the small shops and started sightseeing along with the crowd.