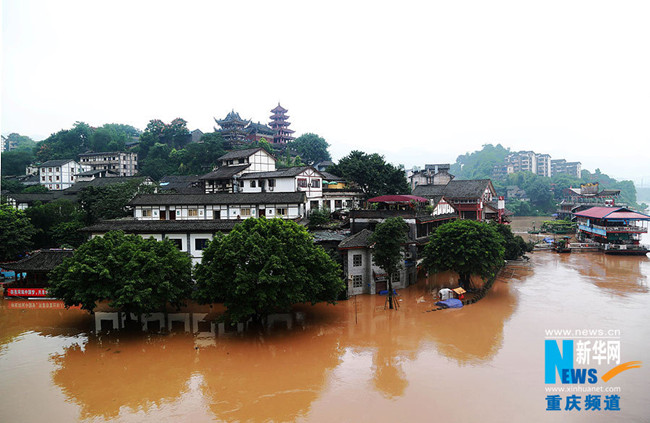 Ciqikou ancient town, hills and lower reaches of the Jialing River enhance each other's beauty, presenting a harmonious image. [Photo/Xinhua]
Natural Museum of Ancient Architecture
Ciqikou was carved out of its surrounding hills. The town, hills and lower reaches of the Jialing River enhance each other's beauty, presenting a harmonious image. In the past, Ciqikou served as the north gate of old Chongqing and an important port along the river. Its prosperity was recorded in local ballads. The town was first built during the reign of Emperor Zhenzong (998-1022) of the Song Dynasty (960-1279). Its original name, Baiyanchang (white rock field), was derived from the white precipices on a hill nearby. It is said that the second emperor of the Ming Dynasty (1368-1644), Zhu Yunwen, fled the Imperial Palace after his uncle Zhu Di usurped the throne. He shaved his head to resemble a monk and hid for several years in the Baolun Temple on the mountain with white precipices. On hearing this story, local people changed the name of the temple to Longyin meaning hidden dragon. Baiyanchang was accordingly renamed Longyin Town. In the early years of the Qing Dynasty (1644-1911), the name of the town was changed to Ciqikou since it had developed into a production and transportation center for porcelain, Ciqi in Chinese.
Ciqikou is an ancient town close to a big city, marked by a large pailou (memorial archway) with the gilded Chinese characters for Ciqikou.
Buildings in this area are mainly residential houses and shops dating back to the period from the late Qing Dynasty to the Republic of China (1912-1949). Various kinds of constructions can be found here, forming a natural museum of traditional Chongqing architecture. Although most of them have been rebuilt, the original styles are well preserved.
At the main entrance to the town stands another, much-photographed pailou that leads to a narrow alley, Huangjiaoping, which opens up onto Zhengjie Street, the town's longest street. During festivals and holidays it is crowded with tourists, making it hard to go anywhere in a hurry. Therefore, this area is best visited in the early morning. Likewise, the commercial area of the town is best avoided. Along the small alleys is where you will find the soul of Ciqikou.