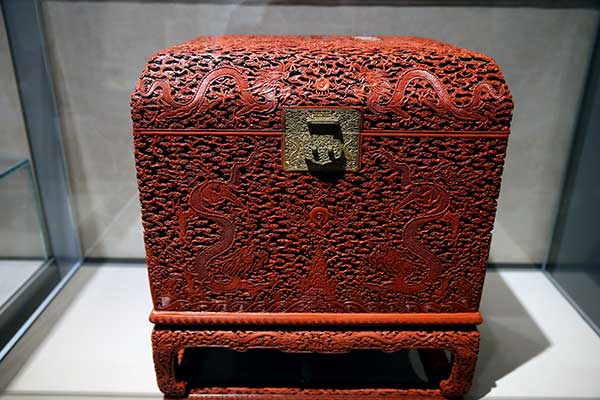 [Photo by Jiang Dong/China Daily]
It took 10 months for Wang Jin and his apprentice to restore this old timepiece. Wang says that new components had to be handmade.
"There are dozens of unrepaired clocks in our warehouse. If we are able to restore only one article a year, who knows how long we will need."
The museum is now looking for expertise from outside to help restore the treasures.
They have met with some success because in the late Qing Dynasty, many artisans in the Beijing area worked for royal institutions, and some of their workshops exist to this day.
Tongxinghe, a wooden furniture workshop dating back to 1836, is one of them.
Wang Laifeng, 62, a furniture restorer with more than 40 years experience repaired a redwood table from the late Ming Dynasty (1368-1644) for the museum, and it is displayed in the exhibition.
Shan says that a 40,000-square-meter area displaying cultural relic restoration techniques will be set up in their branch museum. Construction will be completed by the end of this year.
"What is displayed now is only the tip of the iceberg," he says.
Shan also expects more similar exhibitions in the future.
"People will thus better understand our behind-the-scenes work, and experience the miracles in this process."
If you go
8:30 am-5pm; daily except Mondays, through Nov 15. The Palace Museum, 4 Jingshan Qianjie, Dongcheng district, Beijing. An entry ticket costs 60 yuan ($10), and ticket sales stop at 4 pm (entry via the southern gate only). The exhibition is at the Tower Gallery of the Gate of Divine Prowess (Shenwumen) without any extra charge.