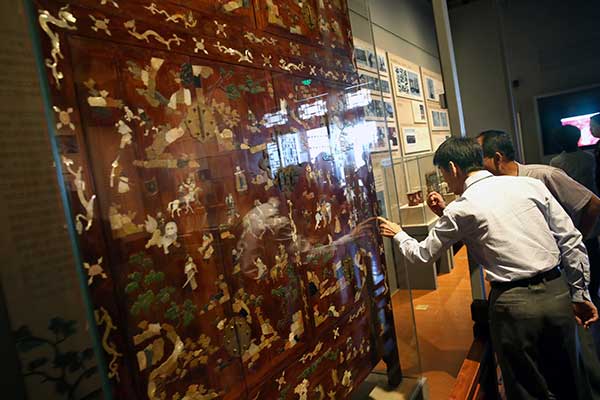 Visitors at the ongoing exhibition at the Palace Museum, which displays old royal craftsmanship.[Photo by Jiang Dong/China Daily]
An exhibition displaying old royal craftsmanship began on Friday at China's former imperial palace.
The Palace Museum, also known as the Forbidden City, is displaying 43 sets of cultural relics, including antique clocks, embroidery and furniture, to showcase its efforts in cultural relic restoration in the past two years.
According to Shan Jixiang, director of the museum, the highlight of the exhibition is not the relics, but the technicians' painstaking process to give life back to them.
"Restoration of these treasures began with their birth," Shan says citing files from the Qing Dynasty (1644-1911) that record their previous restorations.
Each exhibit is displayed with details of the restoration process.
The museum set up its restoration and technology department in 1988. It combines traditional techniques with modern technology.
Large-scale restoration of cultural relics began only in 2013, after a detailed seven-year study of the museum's inventory.
Wang Jin, 54, who has been an antique-clock restorer since 1978, proudly introduces a 17th-century gilded British clock to visitors.
Though this delicate article was once gifted to Emperor Qianlong (1711-99), Wang says its condition was poor when it was discovered in the warehouse.
"We also found evidence of an incomplete restoration done at least a century ago," he says. "Maybe it was too complicated, so the restorers finally gave up."