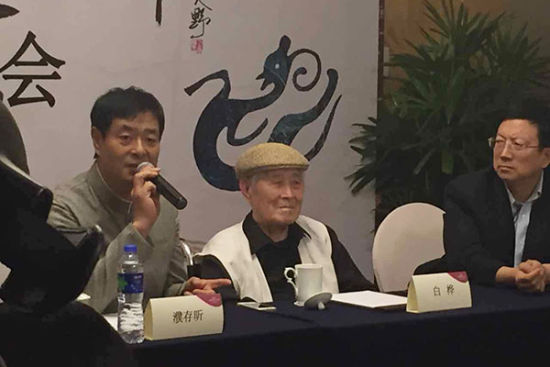 PuCunxin and Bai Hua.[Photo/CCTV.com]
"The King of Goujian is seen as a hero in Chinese history. But once he got back to the throne, he became the same tyrant as his rival. I think it teaches us a huge lesson. All the Chinese should learn lessons from this story: how power corrupts man; the more power a man has, the further man can fall," Bai said.
Famous actor Pu Cunxin stars as Fan Li, the minister of King Goujian. Fan is famous for being crucial in advising and carrying out King Goujian's plan for revenge, and for falling in love with one of China's legendary beauties, Xi Shi. After toiling to victory, the character gives up his position as a minister to live a quiet life with her.
"I believe the audience can feel the struggle of Fan Li. He is on a path of revenge, after ten year's preparation. But Xi Shi fascinates him, while he has to put his country as priority over all. I would probably make the final choice like Fan Li did in the end," Pu said.
Beijing People's Art Theater is a leading drama organization in China. Ticket prices for the show range from 80 to 880 yuan.