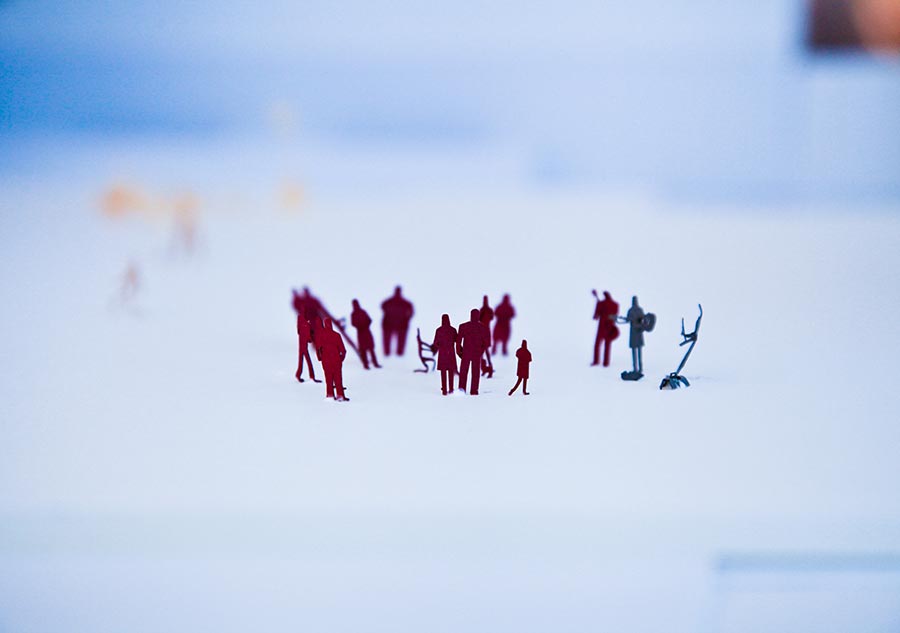 A participant creates a scene using model figures designed by Naoki Terada - people gather around a marriage proposal in front of a street performance. [Photo by Gong Yilin/For chinadaily.com.cn]
"I found the porcelain yogurt bottles to be very interesting. They are cute and they are everywhere in Beijing. It's on sale year-round. So I'm considering to put this in my Beijing Terada Mokei."
Terada said that he hopes his miniatures of city scenes help people recognize a city that is totally strange to them, or recall happy bits of moments of a city while they are away from them. He wants to give people a sense of what the buildings are like through the scenes.
"Creating a typical scene in a city is also a way of reflecting what the architectures are like. I mean, you don't really have to look at the buildings, you can imagine it through the people and the activities taking place around it," Terada said.
As an architect, Terada is a multiple winner of the Good Design Award in Japan. He graduated from Meiji University in Tokyo, and studied in Architectural Association School of Architecture in the UK.