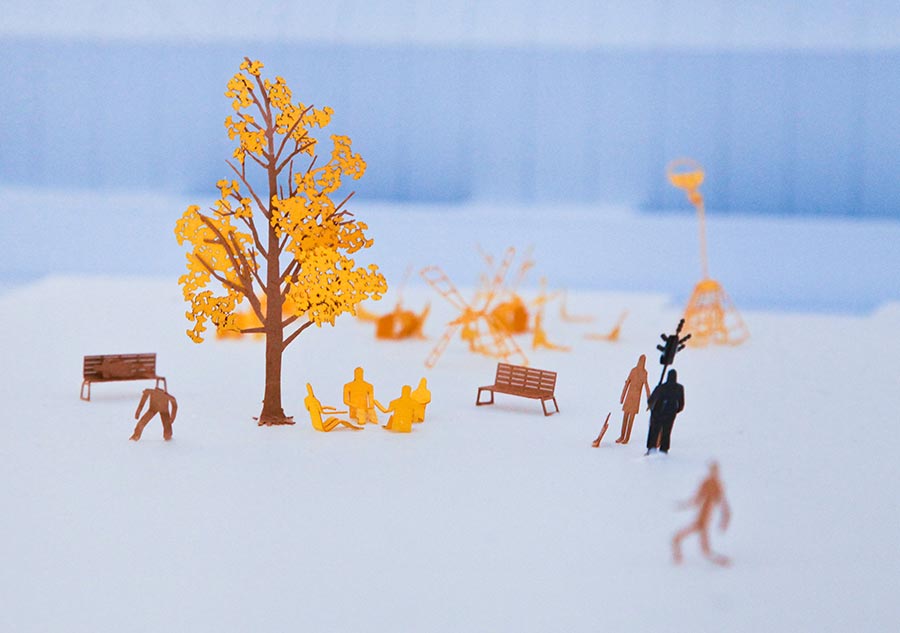 A scene of golden fall in Beijing. People are playing cards under a golden ginkgo tree while a street peddler sells Bingtanghulu (sugar-coated hawthrons) a typical Beijing sweet snack. [Photo by Gong Yilin/For chinadaily.com.cn]
The Japanese Cultural Center in Beijing welcomed Japanese architect Naoki Terada to the Hao Space to replicate a daily Beijing life through 1/100 miniature paper-cuts. Twenty volunteers participated in the activity under the guidance of Terada and his assistant. Participants embraced the opportunity to create an ideal scene in a Beijing's Central Business District.
Terada plans on using this trip to Beijing to collect more material for his project, "1/100 Terada Mokei", or "1/100 Terada Models" in English. The project, which includes 100 scenes of various cities, demonstrates the daily life of different cities via miniature paper-cuts. All the objects in the city scenes will be one percent the size of the originals.
Having spent half a day wandering through the streets of Beijing, Terada said he found some scenes and objects that struck a chord in him.