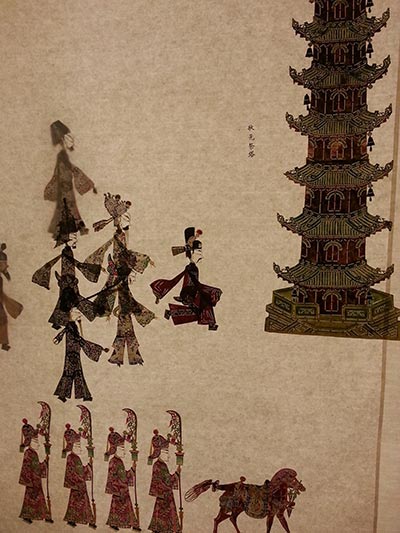 Ancient shadow puppets. [Photo provided to China Daily]
Wang and nine other craftsmen have been making extra shadow puppets for the show since March. The ancient figures are depicted on an illuminated scroll.
Wu's modern presentation of the popular folk tale contrasts sharply with that in which the ancient puppets are used. In seven large, suspended works, Wu has assembled hundreds of small figures, animal and other shapes into a collage in the form of a green fish monster that wants to be transformed into a human.
Wu says his interpretation is a quasi-fairy tale that looks at things from an adult angle. Fahai, whom audiences usually loathe for arresting Madame White Snake, plays the role of loyal detective sent by the Buddha.
"People think Fahai is the bad guy, and they think of the tale as a tragic love story, but I prefer to see it as a detective story with a monster in it," Wu says.
Chinese mythology dictates that the Buddha has no right to arrest monsters such as the white snake, which is under the control of the gods in heaven.
Wu has created the image of a green fish monster that wants to become a Buddha, thus angering the Buddha, who sends Fahai to imprison Madam White Snake, which inhabits the green fish's mouth.
Wu says all of his plots are based on ancient books and folk tales.