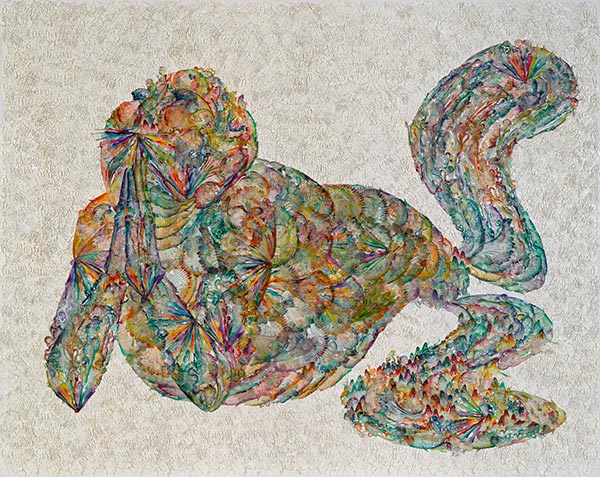 Wu Jian'an's contemporary presentation of the green fish monster. [Photo provided to China Daily]
According to the folk tale, a 1,000-year-old serpent leaves her sacred home in a mountain and goes into the human world to marry a young man named Xu Xian, who had saved the snake's life centuries ago.
But a monk named Fahai is determined to stop this forbidden love between a human and an "evil spirit" and imprisons the white snake in a pagoda. Madam White Snake's son, whom the emperor has decreed to be the finest scholar, manages to free her.
The story has been performed in many different ways for hundreds of years, including as a shadow play, a traditional Chinese opera form dating back more than 2,000 years ago.
The ancient shadow figures version of the legend presented at Prince Kung's Palace Museum is rare because it is extremely hard to bring the cow leather puppets together for one show, says Wang Tianwen, 66, a craftsman of shadow figures.
Many ancient shadow puppets were destroyed during the "cultural revolution" (1966-76), he says, and those used in the stage show, The Legend of the White Snake, are rarer still because, given the use of expensive leather, they were the preserve of the wealthy.