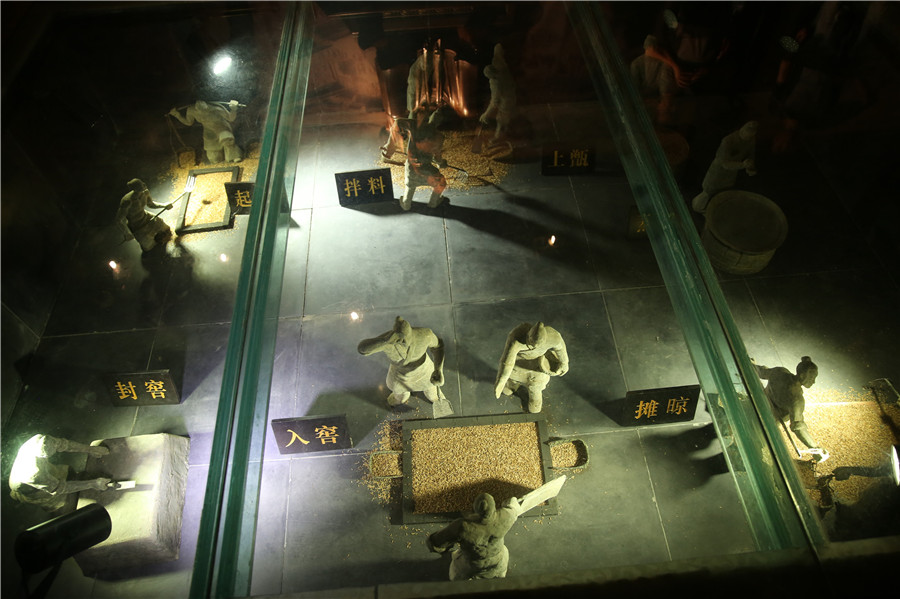 An art work shows the steps to brew baijiu in the museum of Luzhou Laojiao in Luzhou city, Sichuan province, Aug 6, 2015. [Photo by Zhang Ji/For chinadaily.com.cn]
Most people know Luzhou Laojiao as one of the top liquors of China, but the century-old liquor enterprise is much more than that.
The history of the distillery dates back to the Ming Dynasty (1368-1644), and its oldest cellars, founded in 1573, are still in production.
So far, it possesses more than 10,000 brewing cellars with over 50 years' history, and 1,619 aged more than a hundred years, making it the world's largest liquor cellar group.
In 1996, the company was approved by the State Council as the first Cultural Relic of National Importance in industry. In 2006, the traditional brewing technique of Luzhou Laojiao was recognized as a National Intangible Cultural Heritage.