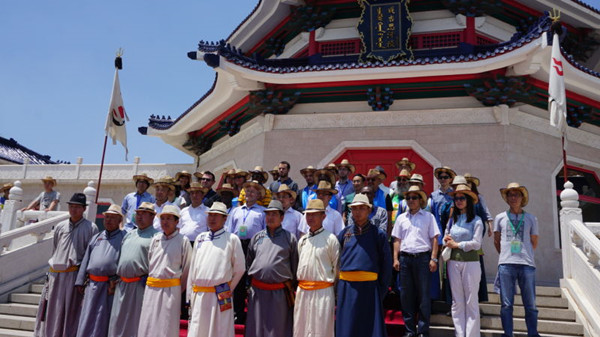 Diplomats, guests and officials pose for a group photo at the Genghis Khan Mausoleum in Ordos, Inner Mongolia, June 27, 2015. [Photo/chinadaily.com.cn]
The first stop for most tourists in Ordos is the Genghis Khan mausoleum, a huge complex in the middle of which is the Memorial Hall flanked by East and West halls.
In the center stands a 13-feet-tall white statute of Genghis Khan. It's only when you are in front of the great emperor with his eyes staring down at you that you realize what a monumental feat it must have been to capture such a large swath of land so many centuries ago and then rule over it.
Although his body is not there as it has never been found, there are enough relics, including armaments, to better understand the man, his empire and that period of history.
If after walking at the huge complex you start feeling hungry then just head to any restaurant to fill your stomach with a whole roasted lamb, a Mongolian delicacy, and top it off with yogurt and milk tea.