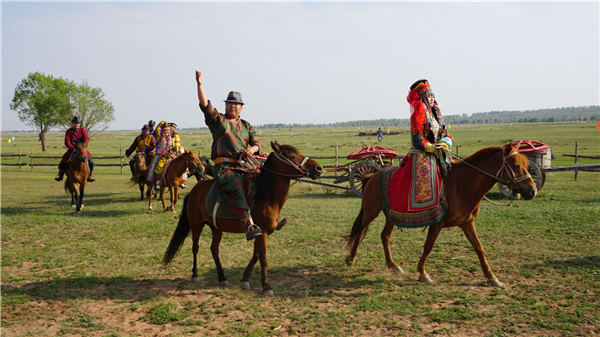 The 'bride' leaves after the mock wedding organized for diplomats and guests in the middle of a desert in Ordos, Inner Mongolia, June 27, 2015. [Photo/chinadaily.com.cn]
If a marriage ceremony offers a snapshot of culture then a Mongolian wedding showcases it in Technicolor.
I was provided a peek into the ritual at an event staged for guests during a tour organized by the Ministry of Culture to Inner Mongolia Autonomous Region.
The first thing that caught my eye at the mock ceremony was the 'bride'.
She wore a red silk dress on which intricate embroidery in green and orange ran from her shoulders to her ankles. As she entered the yurt she bowed, revealing a head-dress with coral and turquoise beads sewn around it.
Two bridesmaids wearing bright yellow dresses with strands of beads partially covering their ears and cheeks placed their hands on her arms and guided her to a silk cushion on a red and white carpet.
With her eyes still lowered, she sat between them.