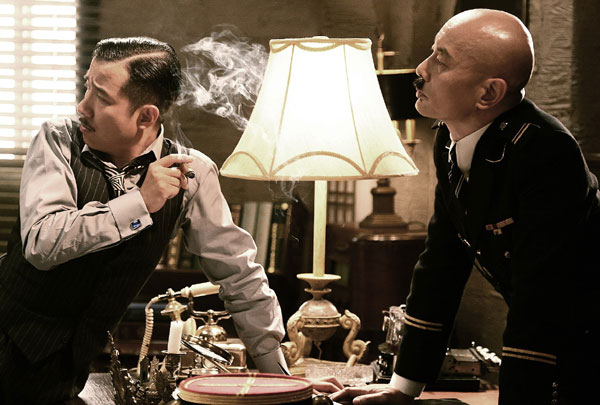 Scenes from Gone With the Bullets depicting smoking. [Photo provided to China Daily]
The political satire Gone With the Bullets has won the Dirty Ashtray Award for being the smokiest film of the past year. Xu Fan reports.
An antismoking lobby group says young Chinese are at risk of being encouraged to pick up the habit by actors puffing on cigarettes in films and on TV shows.
Of the 60 most popular films and TV series last year, more than 2,500 scenes depicted smoking, the nonprofit Chinese Association of Tobacco Control claims in a report.
Of the 30 China-made movies, the political satire Gone With the Bullets, directed by Jiang Wen, was named the smokiest production, followed by Black Coal, Thin Ice, winner of the 2014 Golden Bear award at the Berlin Film Festival, and The Continent, a nominee at this year's Golden Globe Awards.
Nine of the 30 films, including the hit variety show-inspired movie Where Are We Going, Dad?, had no smoking scenes, the association says.
It gave its Dirty Ashtray Award to Gone With the Bullets, which it said included 45 scenes featuring someone smoking, or one such scene every 3.1 minutes, totaling 9 minutes and 17 seconds of the 140-minute movie.
It is not the first time that Jiang, who's well-known for his films with machismo and dark humor, has won the dubious honor.
His action-comedy blockbuster Let the Bullets Fly was named the smokiest movie in 2011 and won the same award for its 80 smoking scenes, comprising about 2 percent of the content.
Beijing Bu Yi Le Hu Film Co, the studio Jiang owns, says it had never heard of the prize and refused to comment.