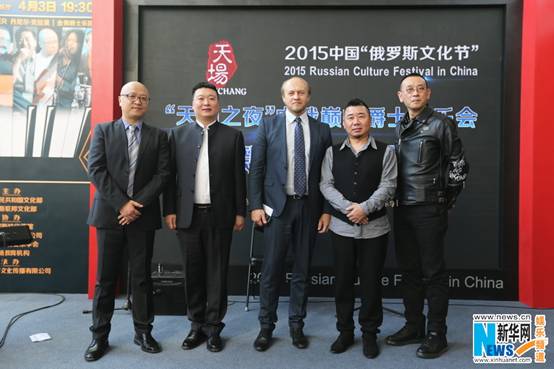 The Golden Buddha Jazz Orchestra takes a group photo with Daniel Kramer.[Photo/Xinhua]
A jazz concert featuring Chinese and Russian jazz musicians will debut on April 3 at the Music Hall in the National Library of China, starting off the Russian Culture Festival in China.
Named by leading Chinese Jazz pianist Kong Hongwei, the Golden Buddha Jazz Orchestra is considered the most influential and inspiring Jazz band in China. The band is committed to playing sophisticated world music and excellent jazz and prides itself as some of the best musicians in China's jazz and traditional music scenes.
Daniel Kramer, winner of the Gustav Mahler Awards, is renowned for his remarkable accomplishment in Russian music. He was awarded as the Distinguished Actor of Russia in 1997 and National Artist of Russia in 2012.
Huang Yong, a member of the Golden Buddha Jazz Orchestra, said he was impressed by Daniel Kramer's performance in the 2014 Russia Culture Festival while his band integrated the sounds of ancient Chinese music with pop, jazz and electronic music from across America and Europe. He also hoped that the cultural collaboration would give rise to creative exchanges.