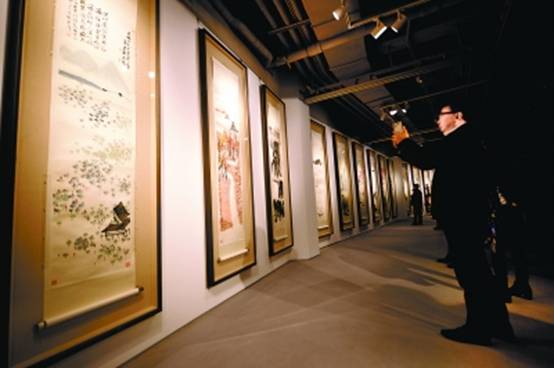 [Photo/Beijing Daily]
Noted as "one of the highest selling paintings" before its auction, the modern Chinese artwork Qi Baishi's 12 Landscape was unveiled at Poly International Auction's 10th anniversary celebrations on Mar 18 and will be put on display in Poly Art Museum in Beijing from Mar 20 to 28.
The painting by the artist Qi Baishi, one of the most well-known modern Chinese painters, depicts the landscape of Guilin and the painter's hometown Hunan. It was painted in 1925 for the man who was a famous doctor in the Republican period, Chen Zilin. It was intended as a gift on his 50th birthday.
"This work was always discussed, yet seen by few. It seems to be a legend. The high price of the painting shows the strength of the art market in China. It's a good thing," said Wang Gang, a collector and an actor. Without the exact estimate by Poly International Auction Co. Ltd, it will take one year to display the artwork and negotiate with the purchasers.
It will be the highest amount paid for the artwork at auction, which will be too difficult to surpass in the future, according to Dong Guoqiang, the president of an auction company.