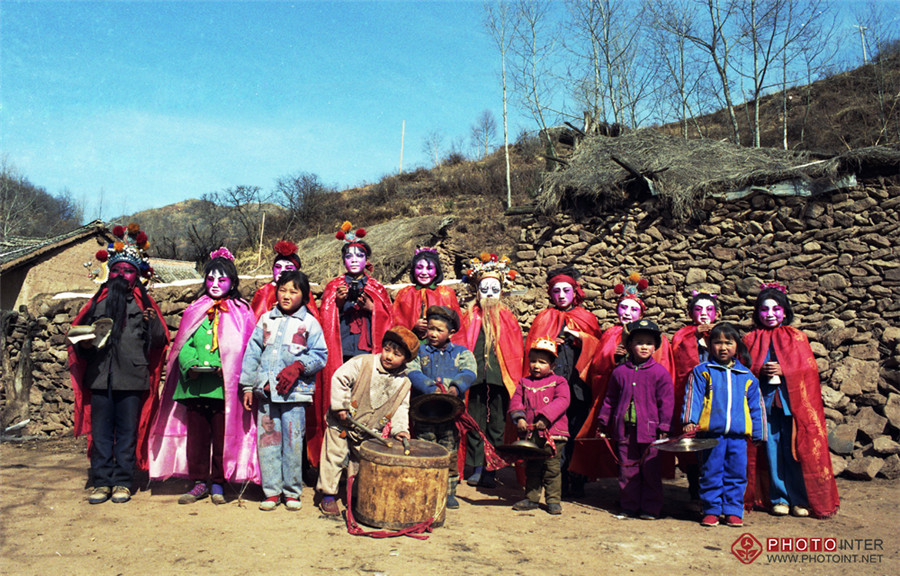 Children posed with Shehuo performers in Handian township, Zhuanglang county of Northwest China's Gansu province in 1999. [Photo by Sun Yanyong/photoint.net]
The performance of Shehuo can be traced back to ancient rituals held by ancestors of the Chinese people to worship the earth, which they believe would bring good harvests and fortune.
With time, the primitive rituals evolved into the Shehuo festivity, a sort of folk art performance given on Chinese traditional festivals and a tribute to the Tudi Gong, a deity who holds sway over fortune and wealth.
Most Shehuo performances take place around traditional Chinese festivals, especially at temple fairs during Spring Festival and the Lantern Festival.
Sun Yanyong, a member of the China Photographers Association, took about 13 years to investigate, accumulate and research the folk sacrifice culture of Guanlong Shehuo by traveling to nearly 100 villages in Northwest China's Shaanxi and Gansu provinces.
Through his lens, Sun kept a record of the valuable images and safeguarded the disappearing folk culture.
His photography series Sacrifice, has won many prizes, including the Best Photographer Award at the China Jinan International Photography Biennale in 2012 and the Bronze Award at the 6th Golden Graphic Arts Awards in 2013.