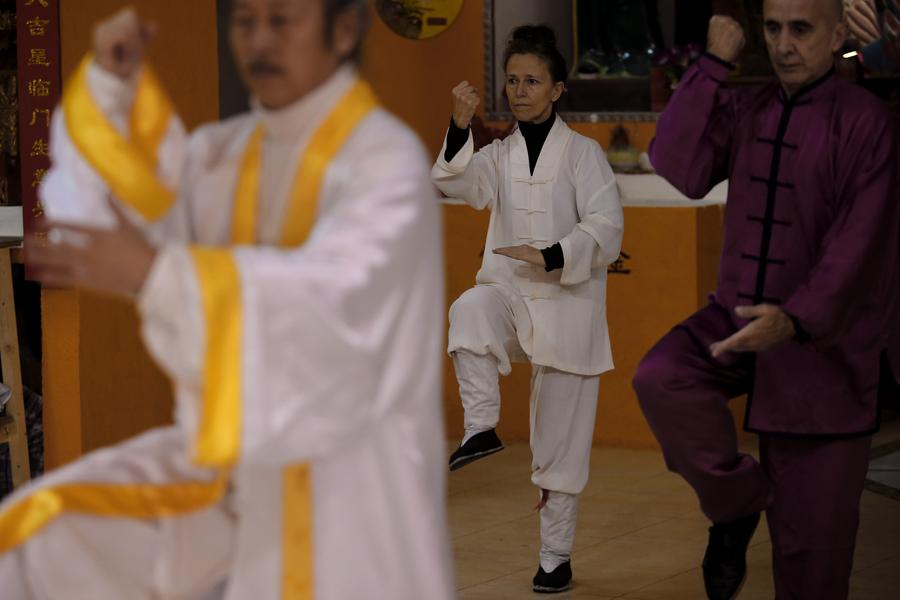 Guadalupe practices tai chi in a Taoist abbey in Barcelona, Spain, Dec 5, 2014. [Photo/Xinhua]
Madam Guadalupe, a 55-year-old lady living in Barcelona, Spain, has been practicing tai chi for almost 20 years. She's been fond of Chinese culture since childhood, and then had studied Chinese in a local language school for seven years. Now she can speak fluent Chinese. She started practicing tai chi since 1995, as a way to strengthen her body.
In 1998, Guadalupe met her current husband, Zhang Xiumu, who was her tai chi teacher then. Sharing a common affection for tai chi and Daoism, the two were attracted to each other. Now tai chi has become an indispensable part of Guadalupe's life. She practices tai chi everyday and started two classes to teaching it. She said tai chi is not only a kind of martial art, but a complete system of fusing traditional Chinese culture, such as the ancient philosophy and medicine, which is a lifelong pursuit.