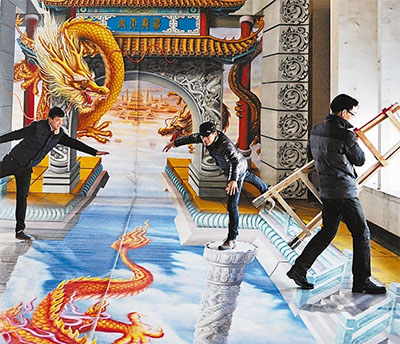 The staff prepares the 3D exhibition hall. [Photo/new.ifeng.com]
The Ninth China International Cultural & Creative Industry Expo, hosted by the Culture Ministry and State Administration of Press, Public, Radio, Film and Television of the People's Republic of China, will be held in Beijing from Dec 11-14. Nearly 50 governmental and professional delegations from 32 countries and regions will take part in the exhibition, and 1,800 cultural and creative enterprises will show up at the major venue. The expo this year features a theme symposium in Beijing and a branch venue in Yangzhou, Zhejiang province. There will be state-level intangible cultural heritage items presented in Yangzhou, such as the Guqin (a seven-stringed plucked instrument) arts, and Yangzhou Sanbadao (three kinds of knives: kitchen knife, pedicure knife and hair-cut knife).
It is noteworthy that the national gifts President Xi Jinping offered to his counterparts during the Beijing APEC meeting - a cloisonné bottle, an exquisite handbag and a fruit plate with a silver silk scarf - will be presented at the expo. This will be a great highlight of the event. Also, a 3D painting of Fairy Dragon in Heavenly Palace will be displayed during the expo.
The expo, themed "Driving Cultural Innovation and Promoting Industrial Integration", is setting its major venue at the China International Exhibition Center. It has 16 themed exhibition areas, including a cultural entertainment and cartoon games area, press, public, radio, film and television area, Taiwan cultural and creative products area, international cultural creativity area, and urban sculpture works area. There will also be 17 themed trading activities, including "Chinese Gift" introduction and marketing event, digital content and cartoon games industry promotion seminar, and the trading fair of cultural and creative industries of Taiwan and Mainland China. Also, six themed forums will be held during the expo, including Sino-European culture and trading forum, radio, film and television industry forum, international copyright meeting and ecological culture forum.