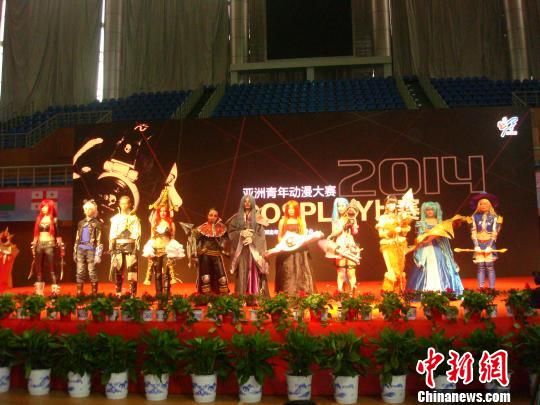 The 8th Asian Youth Animation & Comics Contest [Photo/Chinanews.com]
The 8th Asian Youth Animation & Comics Contest (AYACC) closed in Guiyang on Nov 30. The animation, The Eagle and Chicken from Chinese contestant Tian Ye won the Best Works of the Year Award.
The contest involved more than 20,000 entries from 78 countries, with five entries winning the award for Best Animation Works (Students' Group), four Best Animation Works (Professionals' Group), one Best Animation of the Year, one Best Illustration of the Year and one Best Design.
Among the award winners are Tan Di from China, Tawan Thailand from Thailand, IIyaKatzIsrael from Israel (Best Animation Works in Professionals' Group); Industrialized Food Production from Communication University of China and Women from the Indian International Institute of Design (Best Animation Works in Students' Group).
Other winners include Boring Bird from China (Best Illustration of the Year), ImanMattabi from Iran (Best Animation of the Year), Musician from Iran (Best Director), Playground from Japan (Best Visual Effects), Ling from Taiwan (Best Character Design), and Cats from China (Best Technology Application).
It is worth mentioning that the animation works Hello!Guiyang, directed by Indian teachers and created by students from Guiyang University, won the Special Award of International Cooperation. Also, the animation training program conducted by Guiyang University and India won the same honor.
AYACC, as the one of largest-scale and most influential animation contests in Asia, is the only one that targets young people and aims to provide a platform of international exchanges and cooperation for young animation lovers. It is acclaimed as "The Oscar for Youth" in Chinese animation circles. The 8th AYACC has gained support from various professional associations and animation artists from 78 countries, including China, the US, Japan, South Korea, Russia and Spain.
AYACC stands out from numerous animation contests due to its insistence on bringing something new from the old. It is not only a gathering place for first-rate animation professionals all over the world to exchange their ideas, but also a bridge to connect Chinese animation culture and other countries'.