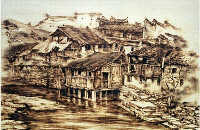 Pokerwork, also known as pyrography, refers to a form of decoration involving burning designs into timber, leather or other materials with hot pokers or electrically heated tools. In terms of texture, the art form is similar to engraving.
Pokerwork has been around for 500 years in the world as a decorative element. It was in the late 19th century that painting, combined with pokerwork, became popular.
The main ornamental composition is drawn on a piece of leather or wood with a heated needle. The picture produced is then painted using simple or complex color schemes and coated with clear lacquer.
In China, the famousNanyangpokerwork is said to have originated in the City of Nanyang in Central China'sHenan Provinceat the end of theWestern Han Dynasty(206BC AD24),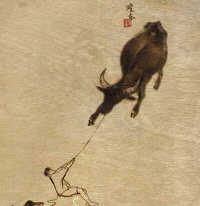 becoming popular in the Ming (1368-1644) and Qing (1644-1911) dynasties. Today, the art enjoys booming development and spreads its fame to the four corners of the earth as one of the three treasures of Nanyang (the other two arejadeand "Chu Shi Biao" -- the first memorial for the northern expeditions written by politician, thinker and strategist of theThree Kingdoms Period, 220-280, Zhuge Liang).
Due to the chaos caused by famines and wars, the craftsmanship of Nanyang pokerwork was once lost. According to written records, in the third year of the Guangxu reign in theQing Dynasty, a Nanyang native named Zhao Xingsan, who was a skilled painter, came up with the idea of creating pictures with a burning pipe when he was smoking opium. He then took great interest in creating pictures and made many such works to use as gifts. Later, pokerworks became the preferred gifts among intellectuals and high officials, and were even introduced into the imperial court as articles of tribute. In the 1820s, pokerwork became a special handicraft industry in Nanyang.