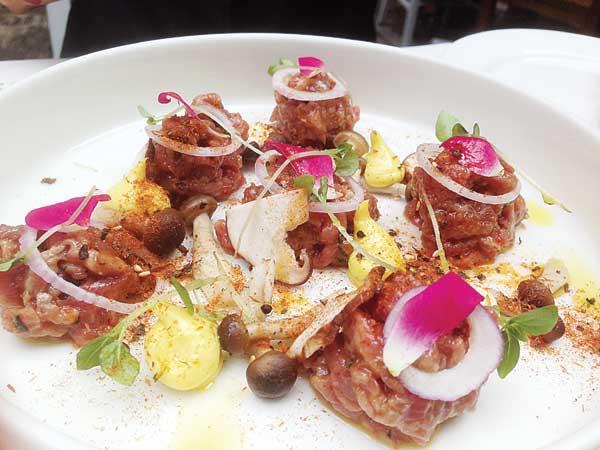 Beef tartare. [Photo provided to Shanghai Star]
They don't accept bookings, and so half an hour before opening time, the pavement outside the restaurant is cluttered with eager diners, Pauline D. Loh recently joined the queue.
There is a certain arrogance in a restaurant that does not accept reservations. This take-it-or-leave-it attitude is sometimes indication of the total confidence owner and chefs have in their product. It's also possibly fuelled by the warped masochism that lies dormant in us all.
Why else would we be waiting for 20 minutes outside a tightly closed restaurant door on a Sunday just before noon? Fortunately, the wait for a table at Commune Social was tampered by a conversation struck up with a fellow victim patiently rooted to the pavement beside us.
"What sort of food do they serve?" the old lady asks. Dredging up what I could remember from online reports, I told her – casual Spanish food, little portions you can pick and choose from.
She looked dubious. The lady was here with husband, daughter, foreign son-in-law and two grandchildren — all waiting.
When the doors finally open, we are politely ushered in, mostly to the al fresco garden seats. In cooler weather, you can opt for indoor dining areas in the other sections.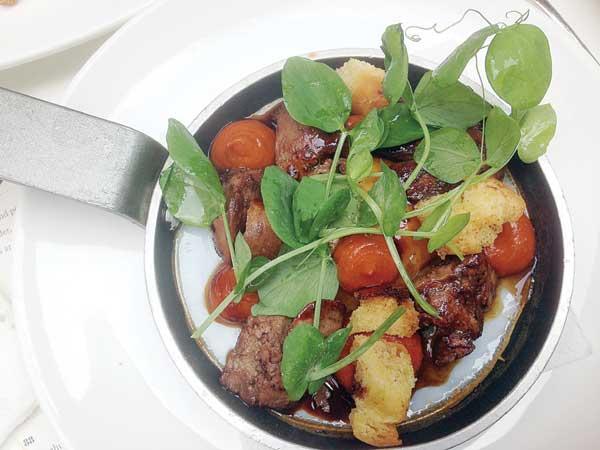 Duck's egg with duck's liver and romesco. [Photo provided to Shanghai Star]
The menu is written on the place mats. If you need English, just flip the paper over. Chef's specials are written on blackboards, which happened to be placed behind our table, so a procession of the relatively myopic kept appearing before us and peering at the boards.
Because of them, we soon had a very good idea of what's available for Sunday brunch.
We Recommend: