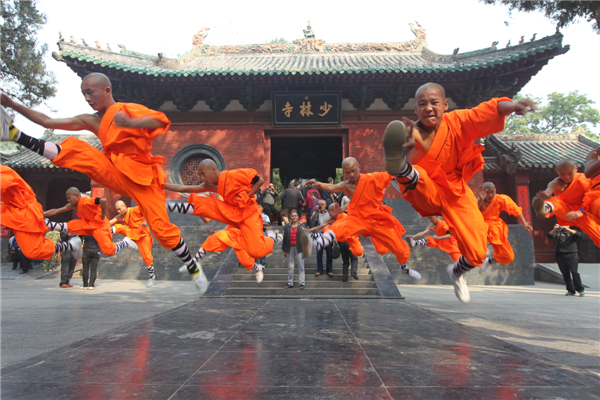 Tourists watch a Shaolin kung fu show at Shaolin Temple in Dengfeng, Central China's Henan province. [Photo by Niu Shupei/Asianewsphoto]
China's high-profile Shaolin Temple is recruiting a media director and an editor as partof its drive to spreadkung fuand Buddhist culture using social media.
The monastery located in China's central Henan Province said on Tuesday that the positions are open to applicants from across the world, with preference for English-speaking new media workers. They will aid in the temple's campaign to build a new-media and social network platform, which will incorporate its microblog and a new account on the instant messaging service WeChat.
"The need arises from an internationalizing Shaolin," said Yanchong, a monk who works at Shaolin Intangible Assets Management Center.
The temple needs new platforms to better interact with its domestic and foreign fans, who come from all walks of life, including many non-Buddhist students and entrepreneurs, he said.
The 1,500-year-old Shaolin temple is arguably China's most famous and controversial Buddhist temple due to its active commercial and cultural activities.
Not long ago, it announced that it will hold a world martialartscompetition and a martial arts forum. The temple also just signed an agreement with China Mobile Games and Entertainment Group to develop video games using the temple's brand.
The celebrity founder of "Crazy English", Li Yang, was admitted to Shaolin Temple in July as a lay Buddhist, which placed Shaolin Temple in the thick of netizens heated discussions again. Li was previously involved in a domestic violence case for beating his wife.
Shaolin Temple is also among the first religious institutions in China to go digital. It built its first website in 1996, and has huge followings on Chinese social networks such as Weibo and WeChat.
It also started its e-commerce business on Taobao, a popular online retail platform, in 2008, to sell meditation costumes, candles, T-shirts, watches, and the controversial Shaolin Medical Book for 9,999 yuan ($1,600).