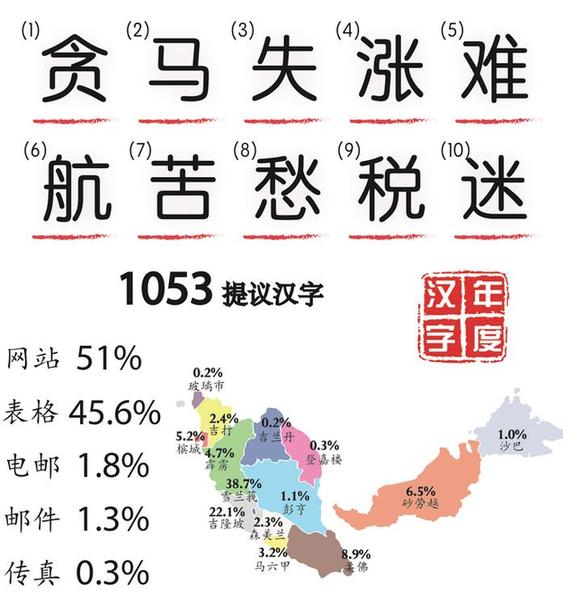 A screenshot of the selection result from the official site of the activity.
The top 10 Chinese characters of the year in Malaysia have been unveiled as the first phase of the Malaysia Annual Selection of Chinese Characters came to an end on Nov 14.
The characters are: 贪(corruption), 马(abbreviation of Malaysia), 失(lost) , 涨(inflation) , 难(tough), 航(flight), 苦(tough), 愁(worry), 税(tax), 迷(puzzle).
The selection was jointly conducted by the Federation of Chinese Associations Malaysia (FCAM) and Han Culture Centre Malaysia (HCCM).
Fang Tianxing, head of FCAM, said the 10 characters sums up the economic development and people's livelihood in Malaysia in the year.
Wu Hengcan, the head of HCCM, echoed Fang's words. He said 2014 is a tough year for Malaysians who witnessed the missing of flight MH370 and inflation of prices. These elements were reflected in the characters selected. He called on Malaysians to be more positive in the next phase of the selection.
The poll of the second phase will last until Dec 15 and the character of the year will be announced on Dec 19.
Chinese language is commonly used in the Chinese circle in Malaysia. The Chinese is the second-largest ethnic group in the country, with a population of nearly 7 million, accounting for almost a quarter of the whole population according to data of 2010.
We Recommend: