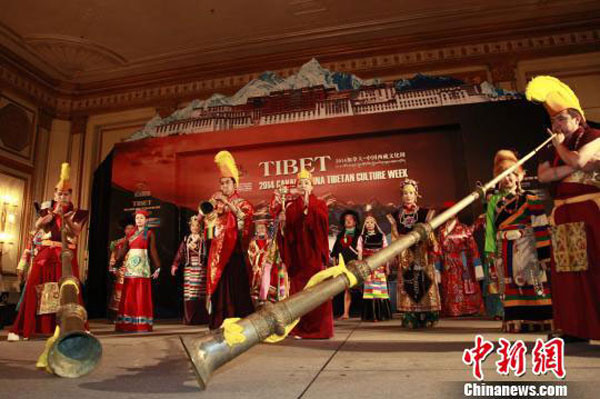 Tibetan performances at the 2014 Canada China Tibetan Culture Week at Fairmont Hotel, Vancouver, November 2, 2104. [Photo: Xu Chang'an/China News Service]
A Tibetan Culture Week has opened in the Canadian city of Vancouver.
The event has opened with performances of Tibetan folk songs and dances, along with the screening of a documentary film titled "Roof of the World."
Doctor Paul Crowe is the director of David See-Chai Lam Center for International Communication.
"I think it will perhaps open the door to people thinking more about Tibet. Understanding the history of Tibet and more complex issues takes a lot of effort, so through films and cultural performances, people can perhaps have their curiosity and interest stimulated, so that they can perhaps try to find out a little bit more, learn a little bit more about the area and about its history."
The annual event, which is also taking place in the Canadian cities of Toronto and Ottawa, was first launched in 2002.
We recommend: