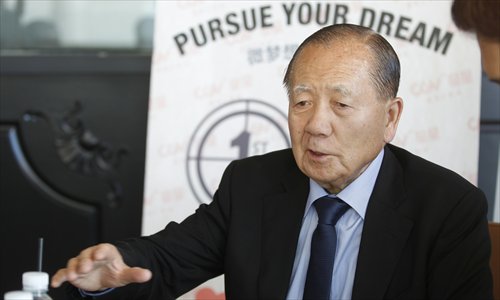 Former director of the Busan International Film Festival Kim Dong-ho [Photo: Courtesy of the CJ Group China Headquarters globaltimes.cn]
Cooperation between the Chinese and South Korean film and TV industries has been picking up momentum in recent years, from the smash hit South Korean TV series You Who Came From the Stars, a big success in both countries, to China-South Korea co-produced films such as A Wedding Invitation, which earned around 190 million yuan ($31 million) at the Chinese mainland box office.
In July, an agreement was signed between China's State Administration of Press, Publication, Radio, Film and Television and the South Korean Ministry of Culture, Sports and Tourism which gives China and South Korea co-productions the same treatment as domestic films in both markets.
Co-productions' promising future has inspired teams from both countries to hold more events to help filmmakers. The first Chinese South Korean Share Your Dream Short Film
Festival, which came to a close on Sunday, is one of these events.
Sponsored by the Chinese People's Association For Friendship with Foreign Countries and South Korean conglomerate the CJ Group, the short film festival, whose theme is "Pursue your Dreams," aims to find and help young directors do exactly that.
Sha Mo, who won the Best Short Film Award for Black Fish, explained why the festival was so important to young directors like himself. "The reason to have young people producing a film is for them to jump outside of the box, and develop creative minds and spirits. Black Fish was my experiment in breaking an already mature film system. Although it maybe na?ve, I stepped up to create something. That in itself has value."
Of the 32 films on the festival shortlist, six were awarded with prizes, but more importantly these six filmmakers will be given the opportunity to visit and study in South Korea.
During an interview with the Global Times on Sunday, Kim Dong-ho, the 78-year-old former director of the Busan International Film Festival, explained why the event chose this particular theme.
"Dreams are one of the core concepts of film. This festival has placed its focus on young people, who all have their own dreams. This festival gives young people a platform to express these dreams through their films."
The founder and honorary director of the Busan International Film Festival, Kim is an iconic figure in the South Korean film industry. He explained that the rapidly developing film industries in both countries have created an unprecedented opportunity to benefit from cooperation.
"China and South Korea can learn from each other's strong points and close the gap. South Korea is the leading competitor in filming and production, while China has richer cultural resources, especially considering its rich history," Kim told the Global Times.
During the 1990s, Chinese films and pop culture such as Hong Kong films became very popular in South Korea. Meanwhile, over in China, a large number of Chinese people also came to love the culture coming out of South Korea at the time.
Kim recalled that the first time he heard the term "Korean Wave" was when it appeared in Chinese media around 1997. This "Korean Wave" first began with films and TV shows, but soon spread to include the country's pop music.
"We need to have more and deeper cross-cultural communication between the two countries, in order to increase the vitality of this relationship," he said, pointing out that a handful of government and non-government organizations are currently working to promote and create more opportunities for cooperation between the two cultures.
In his opinion the recently signed agreement between the two counties will benefit the markets of both, since co-productions no longer need to worry about quota limitations for imported films.
"China's film market has been deve-loping rapidly. South Korea is a leading country in film-making. If we can join hands, I believe we can become a center for the Asian film industry and lead more Asian counties to join, thereby becoming the center of the global film industry."
We recommend:
| | | |
| --- | --- | --- |
| | |   |
|  China-South Korea cultural festival held in Seoul | Palace Museum needs to design landmark souvenirs  |  8 popular icons on traditional Chinese architecture |