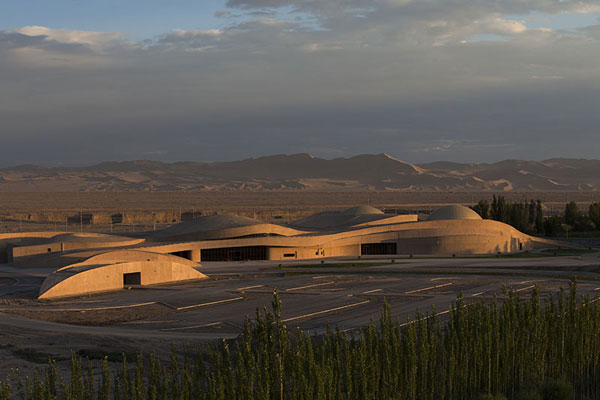 The digital display center of Mogao Grottoes. [Photo/Xinhua]
According to Dunhuang Academy, over 5 million people have visited the Mogao Grottoes in the past ten years. The protection of Mogao Grottoes is facing great pressure due to the increasing number of visitors. The carbon dioxide and moisture bringing in by the visitors have damaged the murals and statues to some extent.
The Mogao Grottoes are a treasure trove of cultural wonders. The caves contain some of the finest examples of Buddhist art in the world. And now with the aid of the latest technology, archaeologists are creating a digital archive of these priceless treasures.
A digital display center of Mogao Grottoes officially opened to public on August 1, with more than 2,700 bookings through www.mgk.org.cn as the first batch of tourists.
The center will enhance tourist's digital experience and protect the world cultural heritage site from the negative impacts of tourism, such as the carbon dioxide and moisture visitors bring into the caves.
The Mogao Grottoes, also known as the Caves of the Thousand Buddhas, are a system of 492 rock-cut cells and sanctuaries near Dunhuang, a desert landscape of Gansu Province. The complex once held over 1,000 caves with rock art, and about 40 of them date back to the Northern Wei Dynasty (385-557). It became a UNESCO world heritage site in 1987.
We Recommend: