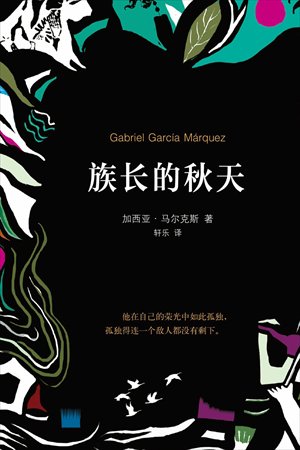 Cover of the Chinese version of The Autumn of the Patriarch Photo: Courtesy of Thinkingdom House

When it comes to the loss of a literary giant like Colombian writer Gabriel García Márquez, who died in Mexico City on April 17, the biggest comfort for his readers across the globe is probably that his works are still there to be enjoyed by the readership.
While the literary world is still mourning his loss, Thinkingdom House's recent publication of the Chinese version of Marquez's The Autumn of the Patriarch provides a chance for Chinese readers to enjoy this soul-stirring book.
Absolute power; absolute solitude
Just like the name says, The Autumn of the Patriarch is about the fall of a patriarch. One of Márquez's four long novels, Patriarch tells the story of an eternal dictator who has led a tyrannical government for several centuries before dying in absolute loneliness.
With the boundless imagination and splendorous images that are typical of Márquez's works, the novel illustrates in detail the patriarch's obsession with power, desire for women, despair towards love, ruthlessness towards life and fear of loneliness.
The dictator of the book is a general that has been deified into an eternal figure by his own propaganda. A combination of power and powerlessness, he possesses absolute political and countless women, yet still suffers from a hernia and bottomless solitude. A tyrannical monster, he throws prisoners into a pool of crocodiles and strips the skin off of those who oppose him.
Living with incredible loneliness and vast insecurities, he uses the death of his body double to test the loyalty of his subordinates and his people. When the results of his little test show that they hate him and want to end his autocratic government, he kills them all and comes to the conclusion that "He himself is government" and that "No one can cut the source of his will through words or behavior."
"He is so lonely amid his own glory that there's not even an enemy left," the dictator is described in the book.
Though fanciful and bizarre, Patriarch is a book deeply rooted in the history and reality of Latin America. However, according to Chen Zhongyi, director of the Institute of Foreign Literature at the Chinese Academy of Social Sciences, the novel, which touches heavily on politics, portrays universal topics.
"It is hard to relate the Patriarch with a particular dictator. He is a shadow of dictators worldwide… You can even find elements of Qin Shi Huang (The extremely authoritarian first emperor of China) in him," Chen said at a press conference last week.
Typical Márquez-style
For Chinese readers who are familiar with Márquez's One Hundred Years of Solitude and Love in the Time of Cholera, Patriarch might sound relatively strange. However, the novel has been regarded by many critics as the author's best literary achievement.
Divided into six chapters that parallel and overlap with each other, the novel uses a poem-like language to tell its story. The stream of consciousness narrative is overwhelmed with inexhaustible images and dotted mostly with commas making it seem like the endless mumbling of a person caught in a deep dream.
"It is Márquez's most distinctive novel. There are breakthroughs in style, narrative, artistic characteristics and the representation of magic realism. It gives readers the feeling that Márquez was trying to push his talent in language and art to the limits," editor of the Chinese version, Liu Cancan, told the Global Times.
Literary critic Zhi An commented at the press conference that "Reading it is like experiencing a strong storm. Such a 'frenzied' state of writing was rare for him."
Some readers exclaimed online that "the constantly emerging images, frequent changing of narrative perspective and dozens of pages without paragraph breaks makes Márquez seem almost like an insane person beyond curing."
Random descriptions, a loose arrangement of plot and character portrayal, packing images and poetic language make the novel seem like a series of moments captured in prose; readers can enjoy the book from any point and can stop anywhere without being confined by the plot.
After the book was published in 1975, two Colombia musicians used a series of graphs and complicated analysis to show that the structure of the novel is consistent with Bartók Béla's Piano Concerto No.3, which the author listened to a great deal while writing the novel.
Patriarch was written after Márquez finished his work One Hundred Years of Solitude. Taking seven years to finish, the book has been given a special position among Márquez's works.
In many ways the numerous confessions of loneliness in the novel is regarded as a reflection of the solitude that the author felt himself.
"After Márquez rose to fame with One Hundred Years of Solitude, he experienced a lofty situation similar to the patriarch's," Liu said. "What's more, the solitude in the book, though that of a dictator, is actually universal and could happen to anyone in the world."
Encounter with China
The Autumn of the Patriarch is the eighth novel that Márquez had grant authorization to be translated into Chinese. One Hundred Years of Solitude and Love in the Time of Cholera have also been translated by Thinkingdom House.
After the novelist grabbed the Nobel Prize in Literature in 1982, several of his works were published in China, including a Chinese version of The Autumn of the Patriarch (1985). However, these works were not officially authorized since China didn't join the Universal Copyright Convention until 1992.
In 1990, Márquez took a short visit to Beijing and Shanghai where he discovered that the Chinese book market was flooded with pirated versions of his books. Angered by what he saw, he swore that he would never authorize China to publish his works, particularly One Hundred Years of Solitude, even 150 years after his death.
"It was a long and arduous process," said Thinkingdom House's Huang Ningqun, talking about how difficult it was to get Márquez's permission to publish his works.
According to Huang, since its establishment in 2002, the company had wanted to publish several of Márquez's books. So to this end, from 2003 to 2005, they constantly wrote to Márquez's copyright agent Carmen Balcells but received no answer.
It wasn't until 2006 that they finally received their first reply. Following that Balcells made an investigatory trip to China to better understand the publisher and sent her assistant to visit Thinkingdom House the following year.
Finally, after eight years of endeavor, Balcells sent an e-mail to Thinkingdom House on February 13, 2010 officially granting authorization to publish Márquez's One Hundred Years of Solitude to a Chinese company for the first time. According to Thinkingdom House, since its publication on May 30, 2011, the classic has been a best-seller in the country, selling more than 3 million copies to date.
We recommend: