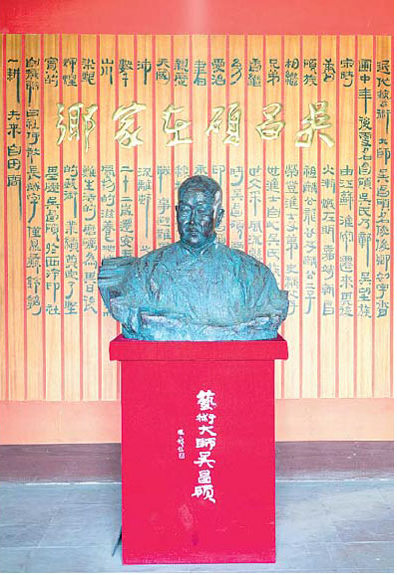 A statue of Wu Changshuo, a noted painter, calligrapher and seal artist from the late Qing Dynasty, in his former home. Photos by Jiang Nan / China Daily
Festival and restoration project promote artist's honorable values in Anji, reports Zhang Zhao.
The former residence of Wu Changshuo will be repaired to celebrate what would be the 170th birthday of the famous painter, calligrapher and seal artist from the late Qing Dynasty (1644-1912).
In Anji county, Zhejiang province, the local government is organizing funds for the commemorative project.
Wu was born in Zhangwu township on Sept 12, 1844, and served as a government official in his early years, but was better known as an artist.
His paintings combined traditional Chinese styles and Western characteristics and integrated calligraphy and seal carving skills.
His works were highly regarded in foreign countries including Japan.
In 1913 Wu was elected as the first chairman of the Xiling Society of the Seal Art, an academic organization for Hangzhou-based seal artists.
The Wu family moved to the little-known but peaceful mountain village of Zhangwu from their hometown Huaian in Jiangsu province to avoid war in 1122.
During the following centuries the family settled and expanded and finally nine generations later a member of the family, named Wu Hongba, received a school education. This marked the start of a family tradition to pay respect to the educated.
It was believed that his son, Wu Song, boosted local education after he donated money to open a free school in the county.
We Recommend: