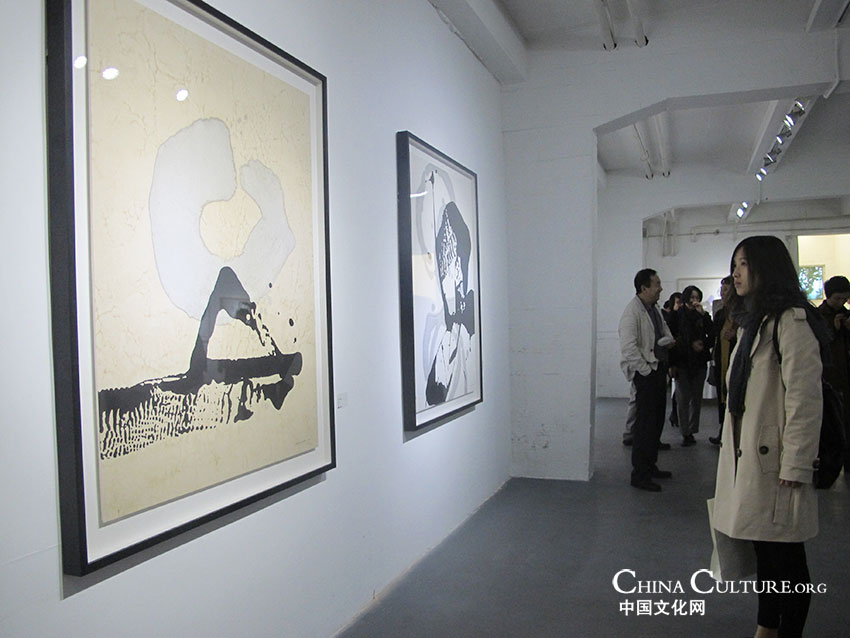 A visitor is examing works at Hou Shanhu's new art works exhibition in Beijing on October 26, 2014.[Photo/chinaculture.org/Yang Qi]
Chinese cultural art pioneer Hou Shanhu recently held a water ink art exhibition in Beijing on Oct 26. Hou is best known for promoting the spirit of Chinese culture through visual arts.
Fan Di'an, president of the Central Academy of Fine Arts praised Hou's works and said that she seems to be embarking on point and line, the basic elements of ink works extending them to the veins and shape. Fan said Hou's art is a new find for ink works
Hou said that her abstract paintings are inspired by nature and composed by her emotions. Describing her work, Hou talked about her fascination with shapes and her creation of tools to help with her control of ink.
"The inspiration of abstract paintings has its source. It has rules the same as that of nature," Hou said. "But it is not enough; I want to add my thoughts in it. The material of rice paper has an oriental charm. It is our unique material and can't be replaced by any western material. "

Time: Oct 26- Nov. 26
Address:Taihe Art Gallery, B-10, 2nd Courtyard, 798 Art Zone, Jiuxianqiao Road, Chaoyang District, Beijing
Tel: +86-10-59789856