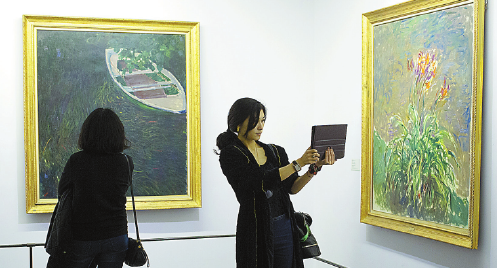 A journalist takes a photograph in front of a Monet painting at a new exhibition at the K11 Art Mall in Shanghai. Journalists attending the media preview on Friday were allowed to take snapshots but members of the public are not.[GAO ERQIANG/CHINA DAILY]
Thousands of visitors waited patiently for hours in Shanghai to be "shown the Monet" and view the French master's work at an exhibition that opened on Saturday.
The K11 Art Mall, organizers of the exhibition, said they put in place strict safety measures and had a maximum entry limit of 3,500 visitors a day.
Security guards were posted every 10 meters from the ticket entrance to the underground exhibition hall, and more than 100 volunteers also provided help and guidance.
"We anticipated and prepared for large numbers at the opening and expect it to continue for the next few months," the organizers said. The exhibition runs until June 15, and more than 60,000 bookings have been made online.
Zhang Liu, a teacher from Shanghai, visited the exhibition on Monday and was surprised at how efficiently it was organized. It took her no more than 10 minutes from getting a ticket to viewing the masterpieces of the artist credited with founding the Impressionist style.
"It was very smooth-really beyond my expectations," she said, but added that some visitors took photos despite being told not to.
"There were clear signs in the hall telling visitors not to take photos, and while most didn't, some visitors ignored the signs."
Exhibition staff have been told to instruct visitors against taking photos.
No photography is allowed in exhibitions of major artists both for copyright protection and also because camera flashes can damage the artwork.
The Monet exhibition has 40 works on display, along with 15 original paintings by other leading Impressionists. This is the first major Monet exhibition on the Chinese mainland and includes his iconic work, the 2-meter tall Water Lilies series and the 3-meter-long Wisteria.
All paintings are from the Marmottan Monet Museum in Paris, said Marianne Mathieu, assistant director of the museum. The exhibition has about half of the museum's paintings on display.
"The museum has more than 100 Monet paintings donated by his son and family members," she said.
Claude Monet was born in 1840 and died in 1926. Impressionism was originally a term of disparagement used by art critics but Monet appropriated the term.
The style, which depicts the changing features of light rather than portraying a subject in exact detail, derives from the title of a Monet work, Impression, Sunrise.
This painting provoked the critic Louis Leroy to coin the term in a satirical review published in the Parisian newspaper Le Charivari.
We recommend: