On March 6 the "Images of the Silk Road - Gansu, China" photo exhibition opened to an adoring crowd as melodies from a Chinese zither served as a backdrop for the event. Guests included the president of the Korea-China Cultural Exchange Association Li Rongyi, vice president of the South Korean Photographers Association Li Pingzhu, famous South Korean photographer Park Xiashan, chairman of the Association of Photographers in Gansu province Li Ying, Vice Chairman of the Federation in Gansu province Zhang Yongji, both cultural counselors from the Chinese Embassy in Korea and director of the Chinese Cultural Center in Seoul Shi Ruilin along with dozens of friends from various professions in South Korea and China.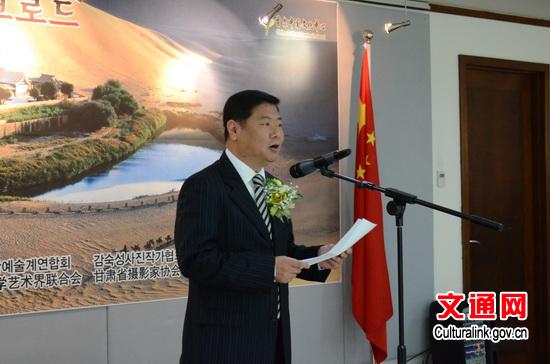 Shi Ruilin speaks at the exhibition opening.
Shi Ruilin, Li Ying and Li Pingzhu, gave speeches at the opening ceremony.. Shi Ruilin stated that Gansu province is an important birthplace of the Chinese nation and holds many of mankind's cultural heritages. He also said the province contains some of China's most famous tourist destinations. In ancient times, monks from the Korean peninsula, after the preaching the scripture, traveled through the Silk Road in Gansu province. Shi pointed out that as the deepening of the Sino-ROK comprehensive strategic cooperative partnership continues, Gansu province and South Korea will become closer. He also said that the photo exhibition will further promote Korean friends in Gansu, and will provide the two countires with a more comprehensive understanding and deeper friendship.
We recommend: